'Prometheus' Making-Of Clip Features More Exciting New Footage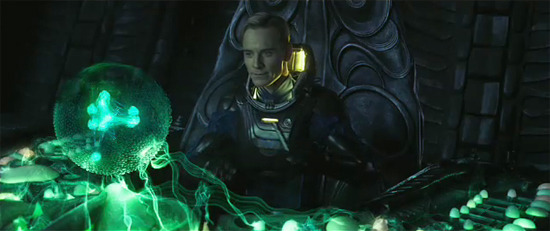 Fox has released a new 'making-of' clip for Ridley Scott's Prometheus, and just as with all the other footage we've seen from the film, it makes the film look spectacular.
This is basically an electronic press kit (EPK) type clip, packed with brief interview bits in which the actors talk about how wonderful it is to work with Ridley Scott, with film footage intercut to illustrate their point. EPK clips are often rather silly. But when the footage looks like this, and the behind the scenes video of the sets looks like this stuff does, it really isn't difficult to take the interviews at face value. I suspect a lot of you would have done very bad things to spend some time on this set. I would have.
Check out the clip below.
So: some great new bits in there, and a good question: what the hell is that skull in the sand at 0:36?
Apple has the clip. I can't imagine this is anyone's first brush with Prometheus, but just in case: the film stars Charlize Theron as the company woman; Noomi Rapace as the so-called 'new Ripley,' Logan Marshall-Green as her co-researcher, apparent partner, and Tom Hardy double; Sean Harris as the roguish member of the crew of the ship Prometheus, Michael Fassbender as the ship android, and Rafe Spall and Idris Elba as the rest of the crew.
Prometheus opens on June 8.
Ridley Scott, director of "Alien" and "Blade Runner," returns to the genre he helped define. With PROMETHEUS, he creates a groundbreaking mythology, in which a team of explorers discover a clue to the origins of mankind on Earth, leading them on a thrilling journey to the darkest corners of the universe. There, they must fight a terrifying battle to save the future of the human race.