The Best Movies About Drunken Writers You Probably Haven't Seen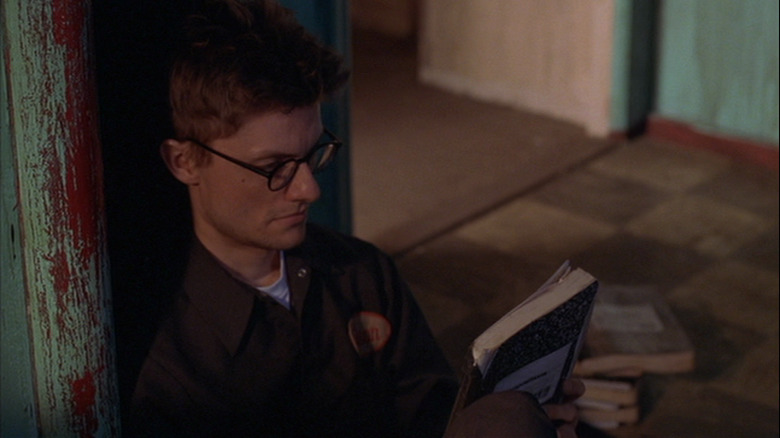 You didn't ask for it, but here's a little window into my world. I write about film for this esteemed website and a few of its worthy competitors. Most days are spent running around New York City to various screening rooms, as well as the hotel suites to yap with movie stars. It's awesome! But it is also a bit of a whirlwind (hence I didn't pick up the dry cleaning, honey, I'm sorry.)
When the glamor of free coffee and listening to Jeffrey Lyons talk to security guards about baseball is gone, I'm back in my apartment, facing a computer, and I have to come up with something to say. Usually, not a problem – being a motormouth is what got me in this business. Sometimes, however, there's nothing. And if there is, it isn't interesting. That's when temptation strikes.
Yes, friends, I'll admit it – some of my most insightful (and viral!) film criticism has been written under the influence of Demon Rum. Fret not, I don't "have a problem." (Though I know that's what people who have a problem say. If I have a problem it's a problem with Nutter Butters.) But I recognize that the tipsy typewriter tapper is a bit of a trope. To that end, this week's TBMYPHS recognizes that most sympathetic creature, the Drunken Writer.
Barfly (1987); Barbet Schroeder, director.
Vagabond poet and author Charles Bukowski let his demons out through his alter ego Henry Chinaski, a slightly less successful version of himself. While the struggles of his boozing years working crummy jobs trying to become a writer was the subject of his novel Factotum (also a film made after his death), Bukowski dipped into this well again for the screenplay of Barfly.
Mickey Rourke is fascinating and fantastic, nailing Bukowski's blend of the pulpy and sublime. Barfly is a minor miracle of a movie, and the lore of its struggle to get made is perfectly in sync with the tone of the film. If you believe the legend, director Barbet Schroeder went into the offices of Golan and Globus with a mini buzzsaw and threatened to chop off his own arm when it looked like the picture wasn't going to happen. You can read that and other stories in the three-layers-deep novel Hollywood Bukowski's book of Chinaski's take on Bukowski's film version of Chinaski's life.
Or, you could just pop a beer and watch Barfly. Frank Stallone is in it.
The Lost Weekend (1945); Billy Wilder, director.
Not all Billy Wilder movies were funny, but not all "issue pictures" from the 1940s were stern pronouncements without sympathetic characters. The Lost Weekend stars Ray Milland as a writer on the rise (he just had a story published in The Atlantic!) but crippled with a powerful thirst.
The scene where he gets the DTs may seem a little cheesy now, but it was harrowing for its day. The best thing about The Lost Weekend, however, are the colorful New York characters Ray Milland's Don Birnam meets, especially on his walk through different ethnic neighborhoods trying to hock his typewriter.
Watching The Lost Weekend will also give you a great catchprase when you decide it is time to cut someone off. "Mister Boynum, I can't serve ya no more rye!"
Mrs. Parker and the Vicious Circle (1994); Alan Rudolph, director.
Okay, so we know that alcoholism will eventually bring you pain, despair and death – but BEFORE that happens it can be a bit of a party.
Alan Rudolph's tremendous take on Dorothy Parker and the 1930s lit scene mixes quaffing and wisecracks, and is up there with Georgia as one of the best things Jennifer Jason Leigh has ever done. We'll be waiting a long time before there's another movie with this many jokes about George S. Kaufman.
Wonder Boys (2000); Curtis Hanson, director.
Welcome to WordFest!
Michael Douglas plays a washed-up novelist drowning in pages while bright young things dominate the literary scene. He distracts himself with doomed romance and marijuana, which is just like alcohol that goes in your lungs, not your stomach. (Work with me.)
A terrific funny-sad movie that has both Iron Man and Spider-Man in it, written by the author of The Amazing Adventures of Kavalier & Clay. So this is basically the thinking man's superhero movie.
Henry Fool (1997); Hal Hartley, director.
In the 1990s we had not one but two great, deadpan independent filmmakers with the same first and last initials. The work of Jim Jarmusch still makes a splash, but if you are a young 'un you probably don't know much about Hal Hartley.
Henry Fool is an absurdist tale that – at least in my interpretation – shows how charisma and talking a good game still falls short in the face of genuine talent. Thomas Jay Ryan drinks Bud in a can and spins yarns for a quiet garbage man played by James Urbaniak. The relationship inspires Urbaniak to become the country's most celebrated and financially successful poet (?) thus causing a rift in their friendship. (From Russ: it might be worth noting here that there is even a 'ten years later' sequel to Henry Fool, called Fay Grim, which is a weird play on espionage films.)
In A Lonely Place (1950); Nicholas Ray, director.
1950 was the year of Hollywood movies about how horrible Hollywood was. Billy Wilder's Sunset Boulevard was the most grandiose and gothic, Joseph L. Mankiewicz' All About Eve was the most catty (hell, most of it is set on Broadway) but Nick Ray's In A Lonely Place is probably the most dark.
Humphrey Bogart plays a washed-up screenwriter framed for the murder of a Hollywood hat check girl. Or. . .maybe he really did it? Whereas the other two films somewhat revel in the movie industry's sleaze, Ray's picture and Bogart's performance give it an edge of desperation.
Sideways (2004); Alexander Payne, director.Sideways is one of the greatest movies about male friendship. Paul Giamatti's performance as a would-be novelist frustrated in love and work presents his taste for wine as one of the few things in his life that is going right. This movie so revels in its oenophilia that no one bothers to stop and say, hey, this guy really has a problem.
Okay, okay, okay I know what you are thinking. Sideways, more than any other film I've ever picked, is hardly so obscure to count as  "probably never been seen." Since that's the case, maybe we should all watch the Japanese remake.
Day of the Locust (1975); Josh Schlesenger, director.
Huh. When I went to look up the date on this one I was reminded that the lead character is, in fact, a set designer and not a writer. I'm keeping it in, however, because it is based on a Nathaniel West novella, a poster child for the doomed writer.
This oddball flick is a more of a snapshot of the depravity and cruelty in the Hollywood system, and also features Donald Sutherland playing a creepy pervert named Homer Simpson. The clip above is the end of the film, technically a spoiler, but it works well as a standalone piece, too.
More Movies You Probably Havent Seen: