Video Blog: A Reaction To The First 30 Minutes Of Pixar's 'Brave'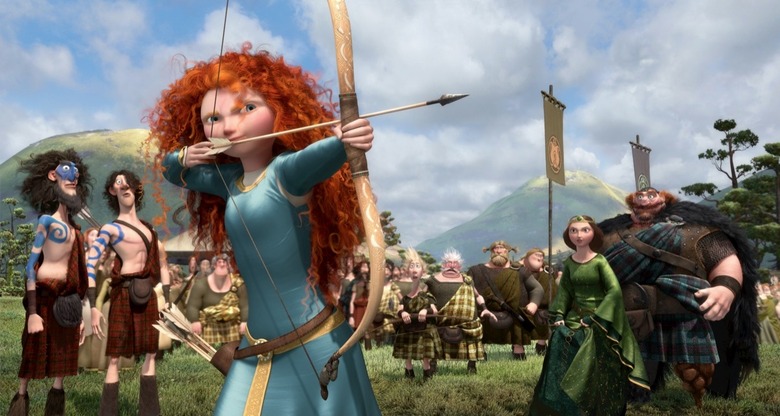 There are a great many questions surrounding Pixar's 2012 offering: Brave. The film, which stars a willful, red-headed princess named Merida, is not only Pixar's first period piece, it's their first movie with a female lead. There was a major, public directorial change early in the production procees, and it's by far the company's most visually realistic film to date. Coming from a world where fish, cars, monsters and toys are king, will a realistic female princess struggling with not only her family but her own identity be something audiences will flock to en masse, even if the story is filled with magic, action and humor?
Disney selected a small group of journalists who'd never been to Pixar Animation Studios in Emeryville, CA to watch the first thirty minutes of the movie, hoping to alleviate many of those worries. In that aim, they succeeded. Over the next week or so, you'll be reading interviews with director Mark Andrews, producer Katherine Sarafian, the story artist, production designer and much more. But, for now, here's a video blog of myself and Cinemablend's Katey Rich discussing the first thirty minutes of Brave.
Thanks to Andrew Hegele from Joblo for shooting the video and Katey Rich from Cinemablend for participating. Here goes.
Obviously we tried to keep it non-spoiler but most of our major thoughts on the first 30 minutes of the movie are there. The humor was a bit of a bother for me and felt a little out of place juxtaposed with the realism and relationships surrounding it. Still, over the course of a full movie, you can imagine it'll feel more balanced. Also while it did take about 30 minutes for the true crux of the story to present itself (which is a little longer than the standard movie formula) I was reminded how WALL-E, Up and other Pixar films all were radically different at the beginning of the movie.
So let it be known, Brave has all the potential in the world to be right up there with the great Pixar films that came before it. However, until we see the full thing, we won't know for sure. What we can tell you is over the coming weeks, we'll have a ton of exclusive Brave and Pixar information from the trip you saw above.