Arnold Schwarzenegger And Sylvester Stallone's 'The Tomb' Adds Amy Ryan, 50 Cent, Vincent D'Onofrio, And Vinnie Jones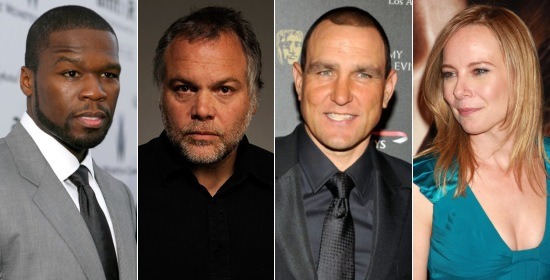 Mikael Håfström's The Tomb attracted some attention for reuniting '80s action stars Arnold Schwarzenegger and Sylvester Stallone, but the project's collected quite an eclectic cast since its early days. After adding Jim Caviezel back in February, The Tomb has now also signed Vincent D'Onofrio, Vinnie Jones, 50 Cent, and Amy Ryan. The combination isn't entirely random: D'Onofrio, Jones, and 50 Cent recently completed production on Lionsgate's Fire with Fire, which like The Tomb produced by Emmett/Furla Films. I can't explain Ryan's presence, though. More after the jump.Variety reports that Jones is now set to play a merciless prison guard who takes pleasure in making his charges miserable, while D'Onofrio is in talks to play the Prisons Bureau deputy director who talks Ray into doing one last job before going into retirement. (You'd think movie characters would know better by now than to ever agree to that "one last job.") Ryan takes the movie's female lead, as Ray's business partner and a potential romantic interest.The Tomb is one of a long string of Emmett/Furla projects for 50 Cent, who's also starred in the company's Setup, Freelancers, and The Frozen Ground and is lined up for its The Pursuit. In addition, 50 Cent is attached to Chris Rossi's Lives of the Saints. Ryan's more recent projects include Win Win and Jack Goes Boating, but her varied resume also includes Paul Greengrass' The Green Zone and HBO's The Wire. She'll next be seen with Guy Pearce and Felicity Jones in an untitled drama by Drake Doremus.
D'Onofrio completed a ten-year stint on Law & Order: Criminal Intent last summer, and has since appeared in Kill the Irishman and Sinister. Jones appeared in the short-lived TV series The Cape, and co-starred with D'Onofrio in Kill the Irishman.