Disney And Marvel Announce 'Captain America' Sequel For April 2014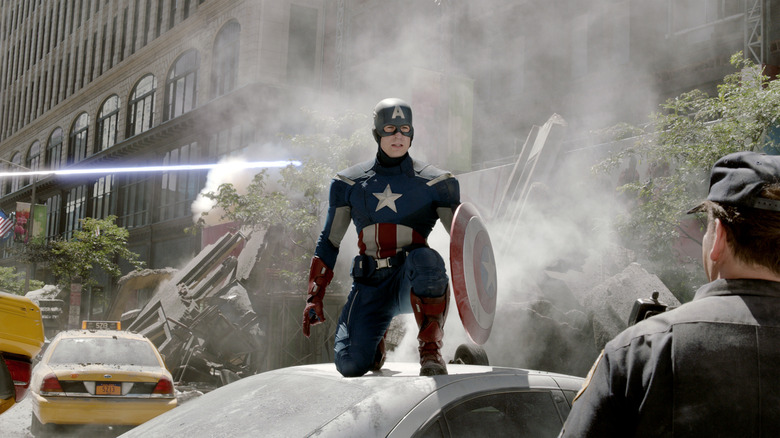 We still don't know who will direct, and there is no confirmation of refutation of the director shortlist revealed recently, but Disney and Marvel have just announced the release date for the sequel to last year's Captain America: The First Avenger. The film will hit on April 4, 2014. From the sound of things, the movie will also be set primarily in the present, rather than bouncing back to World War II.
Along with the announcement, the companies sent out the image above, from The Avengers. The contents of the brief press release are below.
The Walt Disney Studios has announced a release date for Marvel Studios' sequel to the blockbuster Captain America: The First Avenger on April 4, 2014.  The second installment will pick-up where the highly anticipated Marvel's The Avengers (May 4, 2012) leaves off, as Steve Rogers continues his affiliation with Nick Fury and S.H.I.E.L.D and struggles to embrace his role in the modern world.
Now, just because the film will be set as a direct sequel to The Avengers doesn't mean that Cap 2 will take place exclusively in a modern setting; there could be scenes that flash back to the '40s, as the screenwriters have said they'd like to do. Those who know the overall timeline of Cap continuity may be able to glean more than I can from the statement that this sequel will see the character continuing his affiliation with S.H.I.E.L.D. There's still room for the Winter Soldier storyline in that basic description, but we don't know if that's where the film is headed.
This locks in one of the two so-called 'mystery Marvel movies' that will hit in 2014, as Cap 2 now claims a date that Disney and Marvel tweaked last year. The Marvel release schedule now looks like this:
May 4th 2012 – The Avengers
May 3rd 2013 – Iron Man 3
November 15th 2013 – Thor 2
April 4th 2014 – Captain America 2
May 16th 2014 – Untitled Marvel Movie #2