'American Reunion' Review - The Pie's Slightly Stale, But The Heaping Side Of Nostalgia Helps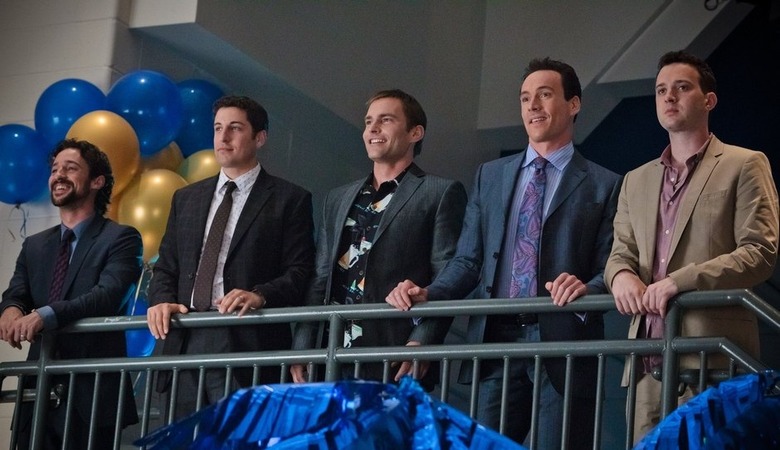 As someone who was roughly the same age as the American Pie gang when the first film dropped — and who then followed the group through 2001's American Pie 2 and 2003's American Wedding — I'm finding it tough to separate American Reunion from the haze of nostalgia surrounding it. But that's part of the point, of course. Much like an actual reunion, American Reunion exists for no other reason than to check back in with the East Great Falls Class of '99. While it falls flat as a standalone film, for fans of the series, the pleasure of spending time with familiar faces once more outweighs the movie's many flaws.
Not surprisingly, the strongest threads also feature the brightest performances. Stifler's story in particular strikes a deft balance between the comeuppance the character's nasty side deserves with the validation that his sweeter side has earned, and Scott sells both aspects of the character with gleeful zest. (He also gets the biggest laughs.) Jim's Dad and Stifler's Mom get a lightweight storyline that becomes one of the film's highlights simply because Eugene Levy and Jennifer Coolidge are freakin' hilarious together. On the other end, Oz's never quite clicks, and much of it has to do with the fact that Klein seems jarringly miscast as a secretly romantic alpha male, despite the fact that he's the one who originated the role way back when. Klein tries his hardest, even busting some fearless moves as a competitor on a Dancing With the Stars-type show, but I never for a second believed that he could pull up such deep reservoirs of emotion for an old girlfriend (Mena Suvari).
The most valuable player by far, however, is nostalgia. Remembering how young and fresh-faced these characters once were, seeing how much older they are now — and by extension, realizing that the exact same thing has happened to me in that time — adds a layer of poignancy to the entire film. Directors Jon Hurwitz and Hayden Schlossberg use this to their advantage, pulling in '90s tracks like the Verve Pipe's "The Freshman" and Bic Runga's "Sway" (from the original American Pie soundtrack) to underscore the more emotional moments in the film. It works like a charm. I admit with some embarrassment that a couple of actual tears were shed in my watching of American Reunion.
Not that American Reunion is actually any sappier or more serious than any of its predecessors. One thing that hasn't changed at all in the past decade is the series' trademark mix of raunchy humor and heart-on-sleeve sentiment, and American Reunion is every bit as delightfully disgusting and crass as any of these movies have ever been. Through no real fault of its own, however, the combination no longer feels as fresh as it once did. In the thirteen years since American Pie, we've seen crude-sweet blend in approximately eight hundred Judd Apatow movies. American Reunion doesn't do it worse, but it doesn't do it better, and it adds nothing to the formula that's truly new or exciting. Even Jim's greatest humiliation in this round seems tame compared to those suffered by Hannigan's other onscreen husband, Jason Segel, in Forgetting Sarah Marshall.
But that's just part of getting older, isn't it? If American Reunion isn't nearly as edgy as the original Pie was, that's because it's not really trying to be. In one scene, the guys watch a more current crop of teenagers partying on the beach and declare that they were never that crazy. Whether or not that's objectively true, the point is that they've gotten to the age where they feel like they weren't, and that we've gotten there with them. Whatever else the movie gets wrong, it's careful to do right by its characters. (Well, except maybe Oz.) For anyone who has an entire decade's worth of affection for and history with this gang, that's just enough to make Reunion an inessential but pleasant diversion.
/Film rating: 6.5 out of 10.00