Warner Bros. Has Faith In Alexander Skarsgard For Bomb Shelter Thriller 'Hidden'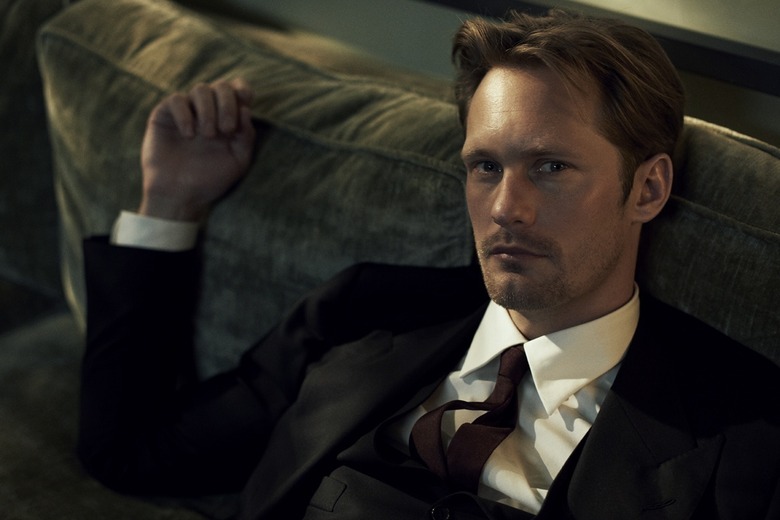 Alexander Skarsgard's commitment to True Blood has kept him from being the movie star he might eventually become, but he has been seen on the big screen in a couple roles recently, thanks to Lars von Trier (Melancholia) and Rod Lurie (Straw Dogs, shot a couple years back). He'll be in Peter Berg's Battleship later this year, and even gets one of the best face-flapping moments in the trailer for that movie.
Now Warner Bros. is looking to the younger Skarsgard to take on a closed-room thriller called Hidden.
Now, whenever I hear Hidden as a movie title I always think of a young Kyle MacLachlan and alien possession. But this is something different. Matt and Ross Duffer sold a spec script to WB that is described as "an elevated horror-thriller about a family hiding in a bomb shelter after escaping a mysterious outbreak."
(Kind of like "what if Take Shelter was an actual disaster thriller?" A little bit. Maybe.)
The Duffer brothers will also direct the film, and the deal under which their script was bought last year was structured so that the film would go into production quickly. That means we should have more cast and info soon.
Skarsgard has also shot roles in The East, from Sound of My Voice director Zal Batmanglij, and in Henry-Alex Rubin's Disconnect. [Variety]