First Footage From Oliver Stone's 'Savages' Has A Colorful '90s Glow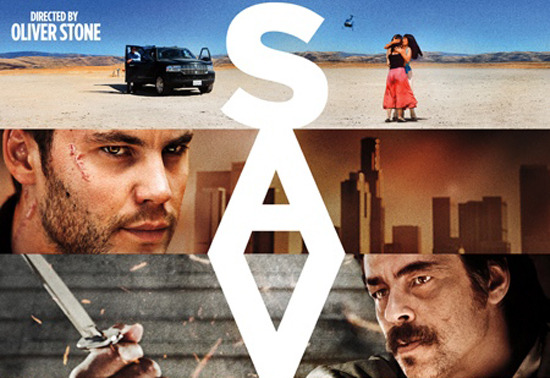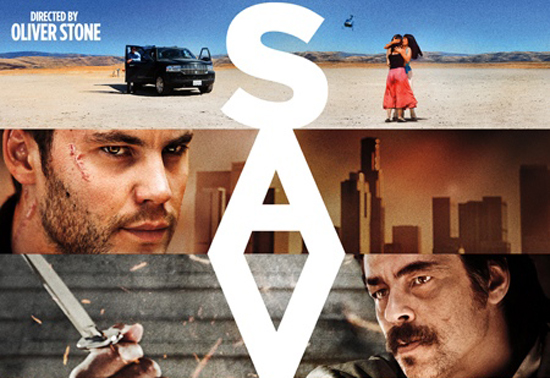 Think back to the Oliver Stone films of the 1990s. Not so much JFK and Nixon; more like U-Turn, Natural Born Killers and Any Given Sunday. Those films had a stylized, hyper-saturated color palette that clearly gave Tony Scott some ideas. For instance, on U-Turn, Stone's cinematographer Robert Richardson shot on reversal film stock — which becomes a transparent positive when developed, rather than a traditional negative — and then cross-processed it as negative film, increasing contrast and color saturation. Tony Scott and Daniel Mindel used the same technique for Domino almost a decade later.
Point is, Stone seems to have gone back to that exaggerated look for his new film Savages, which adapts Don Winslow's novel about two small-time pot dealers (Aaron Johnson, Taylor Kitsch) whose mutual girlfriend (Blake Lively) is kidnapped in an attempt to strong-arm them into working with a Mexican drug cartel, which counts Salma Hayek and Benicio Del Toro amongst its members. John Travolta is also in the film; Stone borrowed him from Tony Scott.
If you saw the first poster for the film when Pete ran it in Page 2 yesterday you'll know something about the look Stone is going for. But now there is a brief montage of footage showing off that stylish, colorful look the director first relied on almost 20 years ago. I have to say, I like it quite a bit.
The full trailer for Savages will be online in about a week, but for now there is this clip via MTV:
There's not enough there to comment on anything but the look, but I welcome Stone's return to the genre excess of U-Turn and Natural Born Killers. I don't think he quite got it right in U-Turn, but the director does excess so well in general that I'd like to see him nail it here. (And I doubt that this will be quite as nutso as NBK.) Savages opens on July 6.
Three-time Oscar®-winning filmmaker Oliver Stone returns to the screen with the ferocious thriller Savages, featuring the all-star ensemble cast of Taylor Kitsch, Blake Lively, Aaron Johnson, John Travolta, Uma Thurman, Benicio Del Toro, Salma Hayek, Emile Hirsch and Demian Bichir.  The film is based on Don Winslow's best-selling crime novel that was named one of The New York Times' Top 10 Books of 2010.
Laguna Beach entrepreneurs Ben (Johnson), a peaceful and charitable Buddhist, and his closest friend Chon (Kitsch), a former Navy SEAL and ex-mercenary, run a lucrative, homegrown industry—raising some of the best marijuana ever developed.  They also share a one-of-a-kind love with the extraordinary beauty Ophelia (Lively).  Life is idyllic in their Southern California town...until the Mexican Baja Cartel decides to move in and demands that the trio partners with them.
When the merciless head of the BC, Elena (Hayek), and her brutal enforcer, Lado (Del Toro), underestimate the unbreakable bond among these three friends, Ben and Chon—with the reluctant, slippery assistance of a dirty DEA agent (Travolta)—wage a seemingly unwinnable war against the cartel.  And so begins a series of increasingly vicious ploys and maneuvers in a high stakes, savage battle of wills.
Here's the poster again: