'Take This Waltz' Trailer - Michelle Williams' Life Has A Gap In It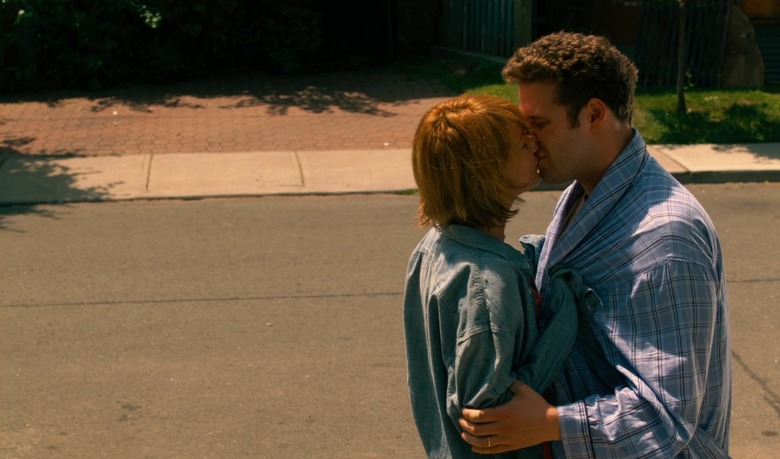 After making her directorial debut in 2006 with Away From Her, about an elderly couple battling dementia, Sarah Polley's returning once again to the topic of marital strife. In her sophomore effort Take This Waltz, the characters in question are much younger and dealing with a whole different set of problems, but based on the trailer and clips we've seen so far, it seems that Polley's assured, graceful touch remains a common thread.
Indie-drama queen Michelle Williams stars as Margot, who finds her happy marriage to Lou (Seth Rogen) thrown into question when she develops an irresistible attraction to a handsome neighbor (Luke Kirby). Watch the new trailer after the jump.
[via First Showing]
For a movie about marital infidelity, Take This Waltz looks relatively restrained. We don't see any screaming matches or steamy sex scenes, and it's mostly small moments — a glance here, a sigh there — that hint at the roiling emotions under the surface. But Polley's film looks all the more powerful for that. I'm willing to bet that most of us have gone through some variation on what Williams' character is going through: that nagging feeling that something's missing, even when it seems from the outside like all should be right in your world.
Take This Waltz also deserves some attention for what early reviews have praised as excellent dramatic turns from the usually comedic Rogen and Sarah Silverman, who plays his sister. I believe it — even in this brief trailer, there's something utterly heartbreaking about Rogen's sweet, unguarded performance, and there's no trace of the usually goofy Silverman persona in sight.Take This Waltz will play the Tribeca Film Festival later this month before getting a limited theatrical release on June 29.
Synopsis:
When Margot (Michelle Williams), 28, meets Daniel (Luke Kirby), their chemistry is intense and immediate. But Margot suppresses her sudden attraction; she is happily married to Lou (Seth Rogen), a cookbook writer. When Margot learns that Daniel lives across the street from them, the certainty about her domestic life shatters. She and Daniel steal moments throughout the steaming Toronto summer, their eroticism heightened by their restraint. Swelteringly hot, bright and colorful like a bowl of fruit, TAKE THIS WALTZ leads us, laughing, through the familiar, but uncharted question of what long-term relationships do to love, sex, and our images of ourselves.