Black Widow Multitasks Violently In First Clip From 'The Avengers'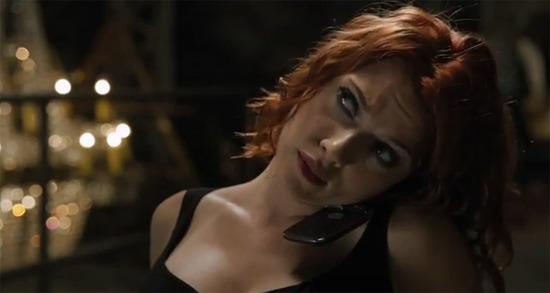 Not so long ago we saw a Black Widow-themed spot for The Avengers that featured part of an action scene in which the character (Scarlett Johansson) takes down a few goons while tied to a chair.
Now we've got most of the scene, in the first clip released from the film. The sequence shows off not only Natasha Romanoff's martial skills, but her ability to handle a phone while putting those skills into action. Check it out below.
We also get some of Black Widow's attitude here — we saw a bit of that in Iron Man 2, but given that the character has a lot more prominence (we expect) in The Avengers, presumably the sauciness here will be put to good use in scenes with the other heroes. And given that this character is probably the least-exposed of the major players in The Avengers, it was probably a good choice to make this the first clip release to build on the various trailers we've seen.
The Avengers opens on May 4.