TV Bits: 'Community' Showrunner Apologizes To Fans About Chevy Chase Feud, Plus: 'Veep', 'Falling Skies', Christopher Mintz-Plasse, Ricky Gervais, Robert Redford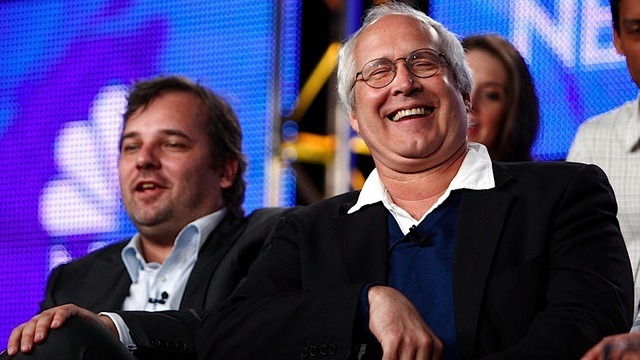 Community's Dan Harmon is very sorry you had to witness that nasty drama between him and Chevy Chase. Also after the jump:
The first three minutes of Falling Skies' second season
Target's "Little Avengers" ad is pretty cute, if you like kids
HBO releases another trailer for its politica satire Veep
Robert Redford will produce a Watergate doc for Discovery
Christopher Mintz-Plasse, a.k.a. McLovin, heads to CBS
Watch a preview for Ricky Gervais' new comedy-drama Derek
Falling Skies returns Sunday, June 17 at 9:00 PM on TNT. [HuffPo]
Sure, the Avengers in their current form are badass and all that, but wouldn't they be so much cuter if they were little kids? In a new Target commercial titled "Little Avengers," pint-sized versions of the superhero team face off against Loki — though first, Captain America needs to find his mom so he can get his shield back. Yeah, it's silly, but if you're the kind of person who goes "aww" over children I bet you'll enjoy it:
Love those incongruously mature voices. [Geek Tyrant]
HBO's month got off to a strong start with the Game of Thrones Season 2 premiere this past weekend, but there's still more awesomeness coming down the line. April 15 sees the debut of Lena Dunham's Girls, while Armando Iannucci's Veep is set to kick off one week later on April 22.
While we haven't seen as much of Veep as we have Girls, I'm just as eager to check it out. Iannucci uses the sharp sense of humor we last saw in In the Loop to take aim at American politics in Veep, which stars Julia Louis-Dreyfus as a senator turned U.S. vice president. Check out the second trailer below:
Earlier this week, we heard of a feud between Community showrunner Dan Harmon and star Chevy Chase involving a storming off the set from the latter and a "fuck you" speech at the wrap party from the former. While the two have had their differences before, this one turned especially public when an angry voicemail from Chase to Harmon hit the web after Harmon played it in front of a crowd at a comic book store event. The squabble put fans in the unhappy position of choosing sides between two of the men who make the beloved series what it is, and sparked speculation (including from us) that Chase could be leaving the series.
Thankfully, passions have now cooled down a bit and Harmon has issued a lengthy public apology — to his fans. Over at his blog, Harmon wrote:
Even the people that hate the show that are tweeting heckles at me are right, I'm a selfish baby and a rude asshole and not a person to trust with your feelings. But the people that I really want to apologize to are the fans of the show... That was a dumb, unclassy, inconsiderate move on my part. I'm very sorry it's reflecting poorly on the show.
While it's nice that Harmon realizes his behavior was untoward, it's interesting that he at no point apologizes to Chase in his post. Maybe the two of them are just working out their issues in private, but the omission doesn't do much to reassure fans concerned about the effect the bad blood will have on the show going forward. [Cinema Blend]
It's been decades since Robert Redford investigated the Watergate scandal as journalist Bob Woodward in All the President's Men, but apparently his interest in the topic hasn't finished. The actor/filmmaker is now set to produce a two-hour documentary about Watergate for the Discovery Channel titled All the President's Men Revisited. The film will explore not just the scandal itself, but also "its effects on politics and the media in the 40 years since."
Watergate's a topic that's been touched upon again and again over the years, but All the President's Men Revisited promises to offer new interviews with politicians and media figures, as well as some fresh material that Woodward pointed out to the producers. The documentary will premiere on the channel in 2013. [NYT]
Christopher Mintz-Plasse made a huge splash on the big screen in his very first gig, 2007's Superbad, and now he's aiming to make an impression on the small screen as well. The actor has signed on for the CBS pilot Friend Me, about a pair of best friends (Mintz-Plasse and his Get a Job co-star Nicholas Braun) who move from their Indiana hometown to Los Angeles in order to work for Groupon. Friend Me marks Mintz-Plasse's first regular TV series role after a respectable string of cinematic projects including Role Models, Kick-Ass, and Fright Night. [Deadline]
Just weeks after the Stateside debut of his latest sitcom Life's Too Short, Ricky Gervais is already promoting yet another new series, this one titled Derek. The show sounds like a slight change of pace for Gervais in that it's a comedy drama rather than a pure comedy, and in that Gervais will be playing a sweet, naive character rather than the asshole type he's become known for. Here's the synopsis:
Derek Noakes is a tender, innocent man whose love for his job and the people he cares for shines through.
He's 49, adores animals, Rolf Harris, Jesus, Deal or No Deal, Million Pound Drop and Britain's Got Talent – but his main hobby is autograph hunting.
Derek works in a retirement home with his mate and landlord, Dougie (Karl Pilkington). Derek cares deeply for old people because they're kind and funny and tell him stories about the olden days.
Hannah (Keri Godliman) is a care worker at the home and is Derek's best friend. She's smart, witty and hard-working, but unlucky in love, and, like Derek, always puts other people first.
And here's the preview:
Did that do anything for you, or do you think Gervais has lost his touch?
Derek debuts April 12 in the U.K. No U.S. premiere has been announced at this time, but given Gervais' popularity here I'm betting we'll be hearing more about it soon. [The Playlist]