Arnold Schwarzenegger Discusses 'Twins' Sequel 'Triplets,' Says "That's Real Entertainment"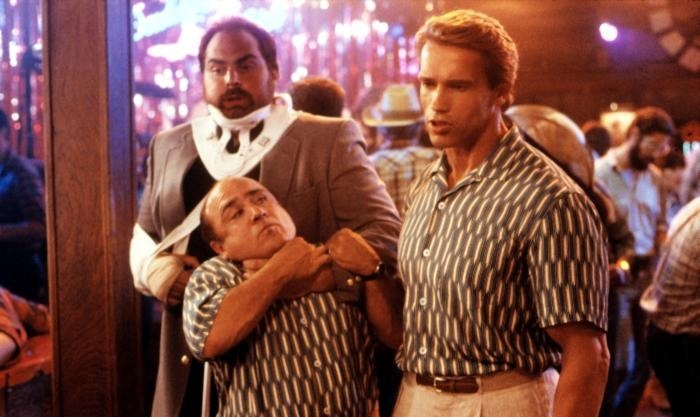 A pre-April Fools' day story that wasn't actually a joke contained the announcement that Universal is developing Triplets as a sequel to Ivan Reitman's 1988 film Twins. The original comedy starred Danny DeVito and Arnold Schwarzenegger as genetically-engineered brothers who learn of one anothers existence when they're both adults.
Triplets doesn't have a director at this point, or even a screenwriter, and the cast isn't yet signed. But the idea is for DeVito and Schwarzenegger to return, with Eddie Murphy stepping in as a third long-lost brother.
Danny DeVito has spoken in general terms about doing a Twins sequel in the past, and now we've got some enthusiastic quotes from Schwarzenegger. He seems wildly confident about the prospects for the film.
ComingSoon spoke to Schwarzenegger late in 2011, and he spoke about Triplets then. The site's interview was embargoed until now, so the quotes are only surfacing today. The former California governor said,
I would love to do another 'Twins.' As a matter of fact, we've been talking about doing one and it's called 'Triplets.' I'd find somebody like Eddie Murphy or someone that people would say, 'How does that happen, medically speaking?' and, 'Physically, there's no way!' Then, somehow, we would explain it. That would be hilarious with what we know about someone like him.
He went on to explain,
I can see a poster...A billboard with us three. 'They found another one!' 'Triplets!' 'Only their mother can tell them apart!' I would do that in two seconds, because that's real entertainment. You come out with that movie for Christmas, like December 5th or something like that, and you're home free.
So is Arnie's confidence in this one well-placed, or is he a bit out of touch? Given that we don't know the full creative team on Triplets it is far too early to make any real calls about how the film might turn out, but given what we know — and that we've had a moment to get used to the idea — does it sound like something you'd see?