'Katy Perry: Part Of Me In 3D' Trailer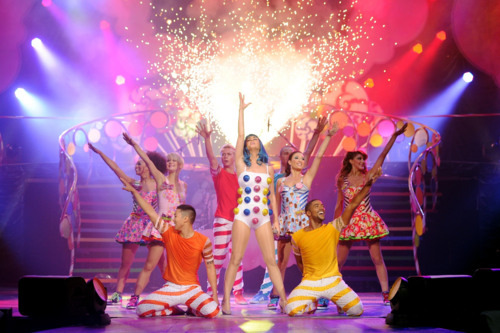 We've known for a few months that Katy Perry is the latest artist to have a 3D documentary / concert film in the works. Now the trailer is out for Katy Perry: Part of Me in 3D, which shows off the star's trademark candy-pop fashion sense and stage show, but tries to balance that with stories about her Christian pop background and family life, including her no-so-long-ago divorce from Russell Brand. The trailer paints Perry as a hard-working performer that feels the weight of her fame... but it also suggests that she doesn't take it all so seriously, through shots like the last one, where she's just stuffing cotton candy into her mouth.
Check it out below.
Perry described the film in a press release:
I am so excited to paint the silver screen in 3D color with help from our friends at Paramount and Imagine. For the last year and a half, I have intimately documented my life both on and off the stage of The California Dreams Tour. I want to take you behind the cotton candy clouds and reveal the highs and lows and nuts of bolts of this extraordinary ride. I promise you, after seeing this film, you will truly know me.
Katy Perry: Part of Me 3D will be released on July 5.
Katy began documenting her California Dreams Tour, consisting of 124 performances, over a year ago. Her management team, Direct Management, soon after brought AEG into the project to film the artist's two shows at Staples Center in LA in 3D. A partnership with Imagine Entertainment followed.