Sequel Bits: George Takei Says Not To Expect TOS Cameos In 'Star Trek 2', Plus: 'Anchorman 2', 'Avatar 2', 'Skyfall', And More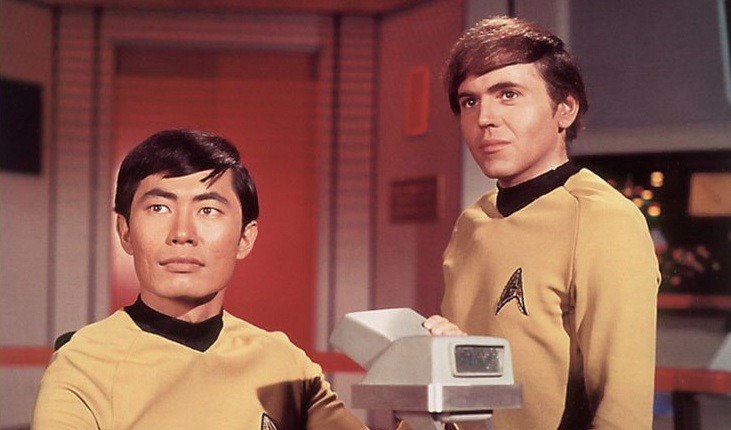 If you were hoping to see more Star Trek: The Original Series stars in J.J. Abrams' Star Trek 2, George Takei says you're out of luck. If you've been waiting to see Emma Thompson step back into her Oscar-nominated role from In the Name of the Father as real-life human rights lawyer Gareth Peirce, on the other hand, things are looking up. After the jump:
Luke Wilson isn't sure he'll be back for Anchorman 2
... but he wouldn't mind another Old School
A new behind-the-scenes video from Skyfall drops
Producer Jon Landau talks Avatars 2 and 3, briefly
Emma Thompson will reprise her role as Gareth Peirce
George Takei says not to expect TOS cameos in Star Trek 2
Another new Men in Black 3 television spot
Despite the massive injuries his character sustained in the last film, Wilson asserts that he'd be happy to revisit his character. "I hope they bring me back," he said. "That was a really funny day of work, just to look over and see Will, Vince [Vaughn], Ben Stiller, Tim Robbins... It was such a weird mix of people. You're in a great mood all day, and you leave thinking that it will be really funny. I really love doing stuff like that, and it would be fun to do that again."
Even if Wilson doesn't land an appearance in Anchorman 2, it seems he's eager to reunite with some of his colleagues again. Wilson named Old School, which also featured his Anchorman co-stars Ferrell and Vaughn, as one of his past projects he'd like to revisit: "God, it would be really fun to do something with Will and Vince again like Old School. I think that was what The Hangover basically was, but they couldn't really get Old School 2 going. But that would be really fun." [IFC]
The BBC has uploaded a short behind-the-scenes video of the Skyfall set, offering glimpses of some stunt driving and the production's London Underground set. Even when he's traveling by subway, the handsome superspy apparently still manages to look impeccable. But I think my favorite part of the video is Daniel Craig's little smile when he talks about being the latest in a long line of Bond actors. "I'll keep going until they tell me to stop," he says, glancing about the room as if he fears someone's about to do just that. Head to the BBC site to watch the clip. [via Coming Soon]
The box-office success of James Cameron's Avatar made a follow-up an inevitability, but because the film didn't end with an obvious set-up for a sequel, it's tough to guess exactly where Avatar 2 and Avatar 3 will pick up. Producer Jon Landau says that was by design, but that there will indeed be a continual thread that links the three films together.
"Each of the [sequels] has to stand alone as a movie," he said. "When you look at the three of them together, there's a continuing arc that you realize. And Jim has successfully done this — when Jim did the first Terminator, he already had Terminator 2 in his mind, but you didn't feel like it was a set-up for a sequel." Read the full interview, in which Landau also discusses using 3D and the rerelease of Titanic, at Box Office Magazine.
This next bit isn't about a sequel per se, but it feels like it is because sequels are how actors usually end up reprising their most notable roles. Emma Thompson is set to play real-life attorney Gareth Peirce in The Secret Evidence, stepping back into a character she first embodied nearly two decades ago in Jim Sheridan's In the Name of the Father. The part earned Thompson an Oscar nomination, though she ultimately lost out to Anna Paquin in The Piano.
The Secret Evidence, which will be directed by Nicholas Racz (The Burial Society), will see a young British couple approaching Peirce for help after one of them lands behind bars as part of the U.K.'s war on terror. Even as the girl tries to get her boyfriend out of jail, however, she finds herself and her family targeted by the government's secret service. The script comes from Racz and Cerie Bullivant, who looked to his own life for inspiration: Bullivant was put under house arrest for two years by the U.K. government for suspected involvement in terrorism, though the charge was never proven. Bullivant himself hired Peirce to represent him. Production on the film is planned for a fall start. [ScreenDaily via The Playlist]J.J. Abrams' Star Trek made a nod to The Original Series with an appearance by Leonard Nimoy as an older, alternate-universe Spock, but TOS star George Takei says not to expect any more cameos from his series in the next Star Trek film — or the ones after that, for that matter. Although Takei had nothing but praise for Abrams' "terrific" movie, he said he wasn't expecting to reprise his role in upcoming installments of the cinematic franchise.
"Leonard made a cameo in the first one, and I thought they would include the still-living one of us in the subsequent ones, but I think they made a policy decision they're going to try to get away from that confusion, and the story track of bringing an old ancient Spock back," Takei said. "So they don't have any cameos for any of us in the next one, and from what I understand, should there be another J.J. Abrams Star Trek movie (beyond the one currently being filmed), it will be without any of us."
As Nerd Bastards points out, that doesn't preclude the possibility that characters from Enterprise or The Next Generation could make appearances. For the foreseable future, though, it looks like John Cho is the only Hikaru Sulu we'll be seeing on the big screen.
If that first Men in Black 3 TV spot left you eager to see more, you're in luck. Sony has quickly released a second commercial for the new picture, which sees Will Smith and Tommy Lee Jones reprising their roles as Agent J and Agent K. In order to save his partner and the world, Agent J has to travel back to the 1960s where he meets a younger Agent K (Josh Brolin). Men in Black 3 opens May 25.
[via Coming Soon]