'Bel Ami' Trailer: It's A Seriously Rough Life For Robert Pattinson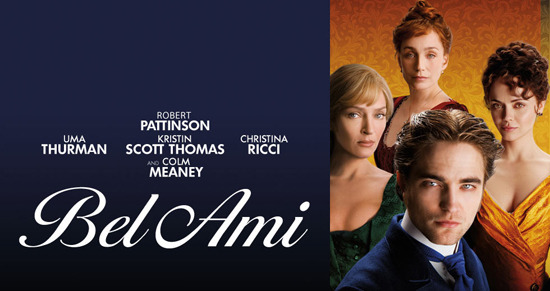 In the past year there have been more than a few trailers for Bel Ami, the story set in late 1800s Paris in which Robert Pattinson plays a guy who sleeps and seduces his way into wealth. The film has played some festivals to middling reviews, but now that the first official US trailer has arrived, it's worth having a look. The cast is appealing, at least, as Uma Thurman, Kristin Scott Thomas, Christina Ricci, Colm Meaney, Philip Glenister, and Holliday Grainger join Pattinson in the film directed by Declan Donnellan, Nick Ormerod.
Check out the trailer below.
Bel Ami is based on a novel by Guy de Maupassant. Sadly, this doesn't look like a really great Pattinson showcase, and I think those that want to see him really reach forward are going to have to look to David Cronenberg and Cosmopolis. That said, I'll give it a look, if only for the supporting cast, and to see Pattinson in much better confines than Twilight.Apple has the trailer. Bel Ami will premiere on VOD May 4, 2012 and open in theaters June 8, 2012.
BEL AMI is the story of Georges Duroy, who travels through 1890s Paris, from cockroach ridden garrets to opulent salons, using his wits and powers of seduction to rise from poverty to wealth, from a prostitute's embrace to passionate trysts with wealthy beauties, in a world where politics and media jostle for influence, where sex is power and celebrity an obsession.