'Rock Of Ages' Trailer: Like Watching A Megabudget Celebrity Rock Band Party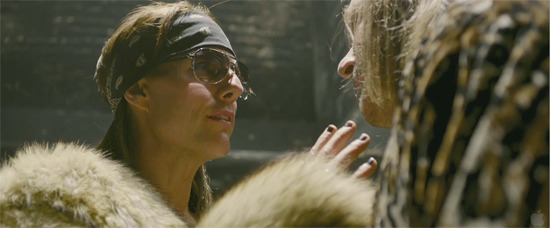 Let me say one thing first: this is the sort of role I think Tom Cruise does well. A variation on the arrogant, overbearing personality with a core of self-doubt has served him well in a few films here and there. So I hoped that playing big-time rock star Stacee Jaxx in Adam Shankman's '80s c**k rock jukebox musical Rock of Ages might work, too. But based on this new full-length trailer, I don't think anything really works in Rock of Ages. I know there will be people who dig this, and given that it took time and effort to create I hope someone digs it. Go forth and have a great time, please. But I can't lie: this one made me cringe more than I would have expected to.
Check out the trailer below.
The cast of this one is big (Julianne Hough, Diego Boneta, Russell Brand, Paul Giamatti, Catherine Zeta-Jones, Malin Ackerman, Mary J. Blige, Bryan Cranston, Alec Baldwin) and there are quite a few people in there I love. I still want to see what Paul Giamatti and Bryan Cranston do with their roles, and I even want to see Cruise's work.
But Alec Baldwin's air guitar bit made me sad. And how is all the dancing and primping even more overdone than all the dancing and primping from videos of the era this recreates? (Hint: those videos were not subtle.) I think I'm going to need to self-medicate (just like they would have done on the old Sunset Strip on which the film is based!) before watching. And despite all the big lighting and flamboyant stage moves, doesn't this all look pretty... small?
Apple has the HD trailer, in case you think you're that strong. Rock of Ages opens on June 15.
"Rock of Ages" tells the story of small town girl Sherrie and city boy Drew, who meet on the Sunset Strip while pursuing their Hollywood dreams. Their rock 'n' roll romance is told through the heart-pounding hits of Def Leppard, Joan Jett, Journey, Foreigner, Bon Jovi, Night Ranger, REO Speedwagon, Pat Benatar, Twisted Sister, Poison, Whitesnake, and more.