First Look: Christoph Waltz On The Set Of Quentin Tarantino's 'Django Unchained'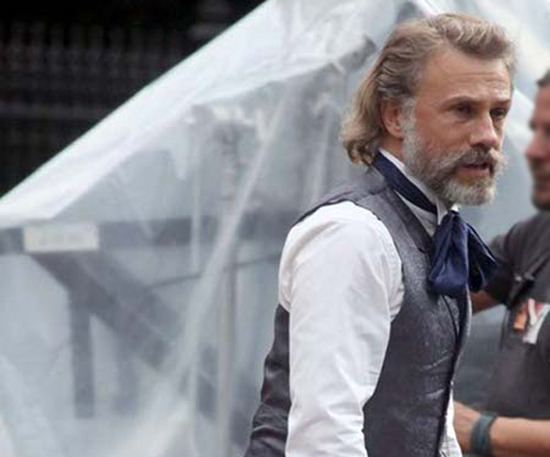 I'm surprised it has taken this long for images of Quentin Tarantino's in-progress Django Unchained to make their way online. The film has been shooting for weeks, and security has done a great job of keeping it low-key. So this is our first look at any character in the film. In this case, we see Christoph Waltz in costume as Dr. King Schultz, the German dentist-turned-bounty hunter who frees a slave (Jamie Foxx) to get some help tracking down a set of slavers.
Hit the break for the full image.
This is just the tip of the iceberg, as the cast includes Kerry Washington, Samuel L. Jackson, Sacha Baron Cohen, Dennis Christopher, Kurt Russell, Laura Cayouette, Don Johnson, M.C. Gainey, Tom Savini, Joseph Gordon-Levitt, Anthony LaPaglia, RZA, Misty Upham, Tom Wopat, James Remar, and many more. All of which is to say that we've got a lot to look forward to.
Perhaps more than anything else, I'm eager to see images of Leonardo DiCaprio as the film's villain, a plantation-owning lout who ends up owning Django's wife (Washington). That DiCaprio's debut turn as a bad guy comes thanks to Quentin Tarantino is wildly promising.
Django Unchained is this year's most unlikely Christmas movie, opening on December 25. [ONTD]