TV Bits: Is Chevy Chase Leaving 'Community'?, Plus: 'Magic City', 'The Daily Show', 'Boardwalk Empire', Rosario Dawson, And More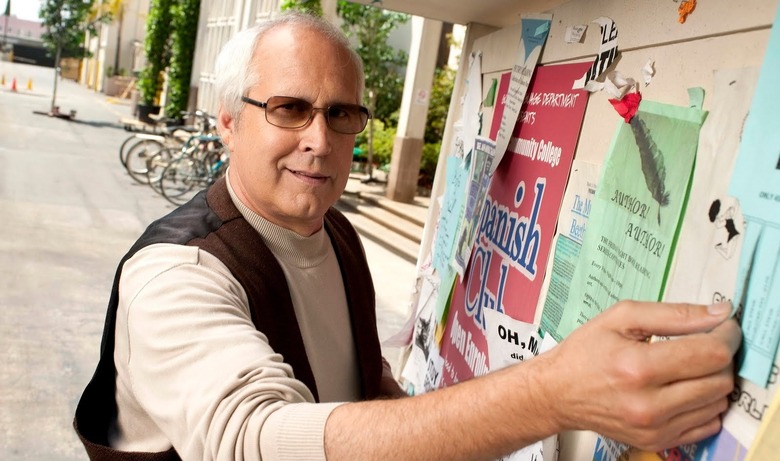 Today's TV Bits starts on a bit of a downer, as Community's Chevy Chase and Dan Harmon bicker and Two and a Half Men's Lee Arohnson makes some obnoxious comments sure to piss people off. But don't worry, there's some sunnier stuff in here too. After the jump:
Are Chevy Chase's days on Community numbered?
Two and Half Men co-creator bashes female-centric comedies
Starz releases the premiere of Magic City online for free
HBO drops a teaser for Season 3 of Boardwalk Empire
The Daily Show heads to the Democratic National Convention
A&E develops an adaptation of Rosario Dawson's O.C.T.
A rundown of broadcast networks' pilots for the 2012 season
Deadline reports that Chase walked off the set while shooting the series' Season 3 finale last month. Not long after, at the wrap party, Harmon gave a "Fuck you, Chevy" speech in front of the actor's family. Chase then responded by leaving a nasty (NSFW) voicemail for Harmon. Now the Huffington Post has posted an interview that took place just before Season 3 wrapped, in which Chase notes he's "always" had "creative issues" with Community before stating, "I probably won't be around that much longer, frankly."
Of course, Chase and Harmon have had tension before, and — as evidenced by the fact that Chase is still on the show as of now — have been able to work things out. The latest tiff could very well blow over. But even if Chase really does leave the series, as Vulture points out, there's no reason to panic. Community's fourth season renewal is looking increasingly likely, and Chase's Pierce Hawthorne isn't so central to the series that the show couldn't move on without him.
In other TV controversy news: Two and a Half Men co-creator Lee Arohnson is drawing ire for his comments on female-centric comedies like Whitney and 2 Broke Girls. Arohnson touched upon the subject in a conversation with THR, saying "Enough, ladies. I get it. You have periods" and noting that "we're approaching peak vagina on television, the point of labia saturation" — even as he praised women like Whitney Cummings, Chelsea Handler, and Tina Fey for broaching formerly taboo topics on television.
In addition, Arohnson was unrepentant about his own series' less than sensitive portrayal of female characters. "Screw it," he said. "We're centering the show on two very damaged men. What makes men damaged? Sorry, it's women. I never got my heart broken by a man." Arohnson later backtracked a bit by noting that he's "not one to judge." "We do far too many fart jokes on Two and a Half Men," he said.
While I don't care for Whitney or 2 Broke Girls myself, it's maddening to see Arohnson complain about comedies from the female perspective even as he defends his decision to focus his own series purely on the heterosexual male perspective. Especially given that the jokes on Two and a Half Men aren't any cleverer or more tasteful than the ones we see on either of those series. [Cinema Blend]
Moving on to lighter news: The welcome trend of networks releasing pilots online early, for free, continues as Starz drops the first episode of Magic City days in advance of its April 6 bow. Set in '50s Miami, the drama stars Jeffrey Dean Morgan as Ike Evans. Though Evans enjoys enviable success as one of the town's most successful men, he's having trouble shaking the dark deal he struck with mob boss Ben Diamond (Danny Huston) in order to finance his deal. Watch the full video below:
[via HuffPo]
It's only been a few months since the Season 2 finale of HBO's Boardwalk Empire, but you know how it goes — it's never too early to start getting fans excited for the upcoming season. The network has just offered a short, not terribly revealing (read: no new footage) teaser for Season 3, which will likely kick off this fall.
[via Collider]
In most episodes, The Daily Show's "on location" coverage consists of one of its "Senior Correspondents" standing in front of a green screen to simulate Washington, D.C., or London, or Kabul, or a college campus, or whatever setting a bit calls for. But every once in a while, the team travels for real, and this summer Jon Stewart will be heading to the real Charlotte, N.C. for the 2012 Democratic National Convention. Also along for the ride will be regulars Samantha Bee, Wyatt Cenac, Jason Jones, Al Madrigal, Aasif Mandvi, John Oliver, and Jessica Williams, as well as 100+ behind-the-scenes staffers.
Shows will be taped at ImaginOn: The Joe & Joan Martin Center, and will air Tuesday, September 4 through Friday, September 7. Tickets for the tapings will be available through the series' official website, thedailyshow.com. [Deadline]
Rosario Dawson could be joining the long list of movie stars headed for the small screen, in an A&E series based on her graphic novel O.C.T. Dawson is teaming up with The Walking Dead producer Gale Anne Hurd to develop the drama, about an "Occult Crimes Taskforce" at the NYPD that was established after the Civil War to investigate supernatural incidents. The series centers around a new member of the bureau named Sophia Ortiz, who will likely be played by Dawson.
Dawson and Hurd are set to executive produce the A&E show, with Dawson's comic book co-creators David Atchison and Tony Shasteen producing. Also producing will be Jorge Zamacona (The Unusuals), who'll write the pilot, and Ford Gilmore. [THR]
And while we're on the topic of upcoming projects in development, THR has the complete guide to TV pilots slated for the 2012 season. The publication plans to continue to update the post as needed, so you can keep it bookmarked for a handy, up-to-date reference. Some of these we've talked about and some of these we haven't, but there are plenty of intriguing projects listed here, including the unfortunately titled American Judy, the Rosanne Barr – John Goodman reunion Downwardly Mobile, Nicholas Pileggi's Ralph Lamb pilot, a new Louis C.K.-produced multicamera comedy, a new J.J. Abrahms thriller, and much more. Head to the comments to let us know which ones you're looking forward to.