Astrophysicist Neil deGrasse Tyson Got James Cameron To Change One Thing In 'Titanic 3D'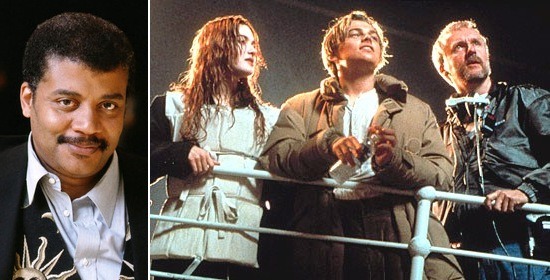 Aside from the addition of 3D, this week's rerelease of James Cameron's Titanic promises to be just as you remembered — unless, perhaps, you're a bit of an astronomy geek. After prodding from astrophysicist Neil deGrasse Tyson, the director has made one small edit to his 1997 film concerning the star formation during the sinking of the ship. While most filmmakers probably wouldn't concern themselves with such a seemingly minor detail, Cameron's famed perfectionism compelled him to make the change. Read more after the jump.
Cameron described Tyson's original message "quite snarky," but conceded that the scientist had a point. "With my reputation as a perfectionist, I should have known that and I should have put the right star field in," Cameron acknowledged. "So I said, 'All right, send me the right stars for that exact time and I'll put it in the movie.'"
Cameron isn't the only high-profile pop culture figure Tyson's taken to task for scientific inaccuracy. In an appearance earlier this year on Comedy Central's The Daily Show with Jon Stewart, Tyson informed the host that the globe in the opening credits of his show was spinning in the wrong direction. In addition, Tyson's pointed out Cameron's inaccuracy and others in his book Cosmic Quandaries, as well as in a panel discussion at St. Petersburg College. Watch the very entertaining discussion below (skip to 23:50 for the rant on Titanic):