Trailer For Aaron Sorkin's New HBO Show 'The Newsroom'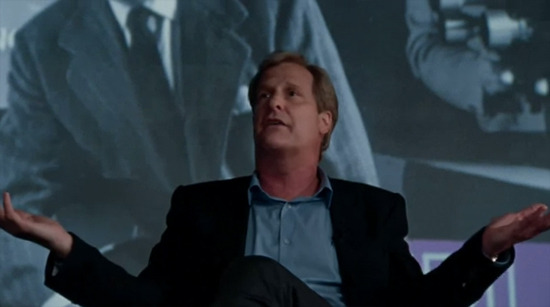 Aaron Sorkin returns to television with The Newsroom, and this first trailer makes the show out to be so very Aaron Sorkin. For fans of The West Wing and Sports Night, that's probably all you need to hear.
For those who aren't predisposed to love Sorkin's work, here's the attraction in The Newsroom: Jeff Daniels, playing a big-time, buttoned-up news anchor who finally lets his real personality fly, and then has to deal with the career fallout that results. There are a few potential red flags in this trailer: Sorkin's near-trademark treatment of women; the possibility that the main figure is a political mouthpiece in search of a character; and a reliance once more on Sorkin's classic "one man fighting the good fight" approach.
But good lord, Jeff Daniels just looks great. He's an actor that is often dismissed, I think, and the brief couple minutes of this trailer may be enough to change that for many people.
The pilot for The Newsroom was directed by Greg Mottola (Adventureland, Paul) and also features Emily Mortimer, Sam Waterston, John Gallagher Jr., Alison Pill, Thomas Sadoski, and Dev Patel.