'Ted' Red-Band Trailer: Peter Griffin, Trapped In The Body Of A Bear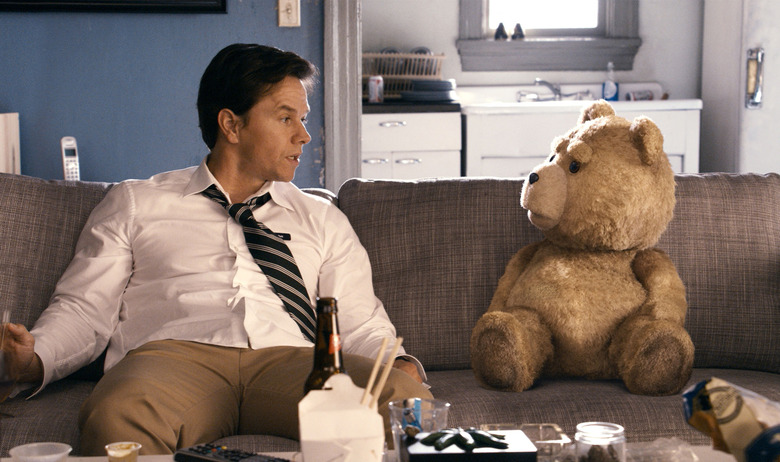 The first trailer for Ted, the debut feature from Family Guy creator Seth MacFarlane, probably had to be a red-band clip. The film stars Mark Wahlberg as a guy who once got his wish to have his teddy bear come to life, but now has to life his adult life with a foulmothed stuffed companion. (Voiced by MacFarlane.) When he meets the girl of his dreams (Mila Kunis), conflict naturally arises between the old companion and the new.
The trailer lets us know that the film is from the man behind Family Guy pretty fast, but I imagine most people will have that fact pegged even sooner, thanks to MacFarlane's recognizable voice. Ted sounds like a furry little Peter Griffin, and the humor shown off here is a bit like what might happen on Family Guy if all restrictions on language were lifted.
I like seeing Mark Wahlberg going for the totally ridiculous angle in comedy, but still kinda playing the straight man. I'm not sure how much of MacFarlane's comedy I really want in feature-length form, but I do want to see how Wahlberg plays with and around it.
Funny or Die has the trailer. Ted opens on July 13.
Family Guy creator Seth MacFarlane brings his boundary-pushing brand of humor to the big screen for the first time as writer, director and voice star of Ted.  In the live action/CG-animated comedy, he tells the story of John Bennett (Mark Wahlberg), a grown man who must deal with the cherished teddy bear who came to life as the result of a childhood wish...and has refused to leave his side ever since.