'Total Recall' Trailer: Can Someone Tell Colin Farrell Who He Is?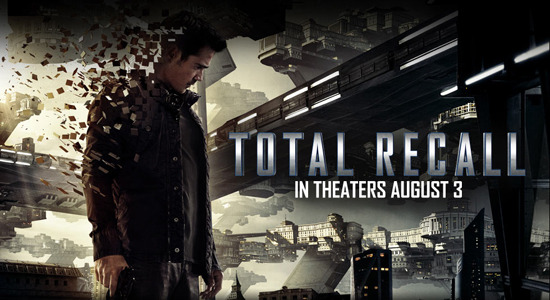 Here's the trailer for the best sci-fi movie of the summer! Oh, wait... er, April Fools? This is actually the trailer for Len Wiseman's remake of Total Recall. Or one might call it the trailer for Len Wiseman's new adaptation of the Philip K. Dick story We Can Remember it For You Wholesale, which just happens to use the same title used the last time someone made an adaptation of that story. However you want to look at it.
Regardless, Colin Farrell stars in a version of the role made famous by Arnold Schwarzenegger, and he is caught (maybe) between his memory and true past, as well as between Kate Beckinsale and Jessica Biel, in the sci-fi action thriller.
Check out the trailer below.
This trailer doesn't give us a great idea of what the film really is — there are bits that are very reminiscent of the Paul Verhoeven film with Arnold Schwarzenegger (the Rekall chair, that "if I'm not me" line) and then a lot of the videogamey action we saw in the Comic Con clip last year. Some of the effects look good, but beyond that I still don't know what this movie offers that is different from the previous version. Except Bryan Cranston, that is, but we only get a very slight look at him in this trailer.
Apple has the HD version. Total Recall hits theaters on August 3.
Total Recall is an action thriller about reality and memory, inspired anew by the famous short story "We Can Remember It For You Wholesale" by Philip K. Dick. Welcome to Rekall, the company that can turn your dreams into real memories. For a factory worker named Douglas Quaid (Colin Farrell), even though he's got a beautiful wife (Kate Beckinsale) who he loves, the mind-trip sounds like the perfect vacation from his frustrating life – real memories of life as a super-spy might be just what he needs. But when the procedure goes horribly wrong, Quaid becomes a hunted man. Finding himself on the run from the police – controlled by Chancellor Cohaagen (Bryan Cranston), the leader of the free world – Quaid teams up with a rebel fighter (Jessica Biel) to find the head of the underground resistance (Bill Nighy) and stop Cohaagen. The line between fantasy and reality gets blurred and the fate of his world hangs in the balance as Quaid discovers his true identity, his true love, and his true fate.