/Film Atlanta: Russ Introduces Documentary 'Eurocrime!' Tonight At The Atlanta Film Festival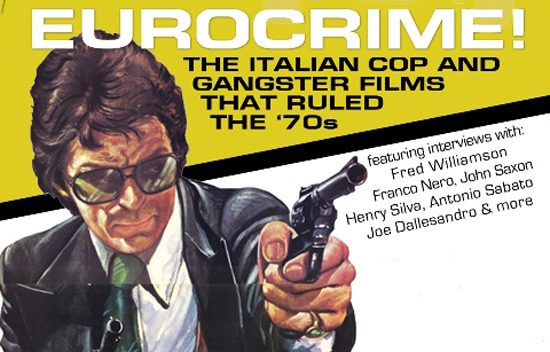 For any Atlanta residents (or people within driving distance) there's a great event going on tonight at the Atlanta Film Festival. The documentary Eurocrime! The Italian Cop and Gangster Movies That Ruled the '70s, from writer/ producer/ director and Atlanta resident Mike Malloy, will have its world premiere at 7pm as part of the Atlanta Film Festival. I met Mike a couple years back, and because he knows that I'm a fan of the films chronicled in his documentary, he invited me to introduce the picture and moderate a Q&A afterward.
Eurocrime films, called poliziotteschi or poliziottesco at home, were Italy's answer to American successes like Dirty Harry, and became the explosive follow-ups to the spaghetti western. They were made fast and cheap, with most actors doing their own stunts and car chases frequently shot on streets filled with unsuspecting citizens. They reflected social and political unrest, and the crime that was plaguing cities of Italy at the time. The best films in the genre are wild and energetic crime movies that have influenced many directors in the decades that followed. (Quentin Tarantino is an obvious reference point here.)
Their appeal is often heightened by great soundtracks; Ennio Morricone and Goblin contributed notable music, as did less internationally famous acts like Guido and Maurizio De Angelis.
Malloy's film is an exhaustive chronicle of these films: how they were made, who made them, and the many circumstances that helped the genre thrive for a decade.It is packed with interviews with actors like John Saxon, Franco Nero, Fred Williamson and Henry Silva, director Enzo G. Castellari, who made many of the genre's best films as well as the original Inglorious Bastards, writer Claudio Fragrasso, perhaps most notorious for directing Troll 2, and craftsmen such as the stuntmen and dubbing actors who helped make the movies what they were.
The film plays at the Landmark Midtown Art cinema, and you'll walk out knowing more than you ever thought there was to know about Italian crime movies. Some tickets are available here.
Here's a long early trailer for Eurocrime:
And here are trailers and clips for a few of the films chronicled in the doc: