Casting Bits: Eva Green, Emma Stone, Carey Mulligan On 'The Thin Man' Shortlist; Gerard Butler In 'Motor City;' Hal Holbrook In 'Promised Land'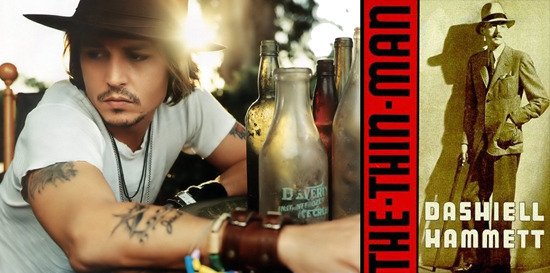 Johnny Depp and Rob Marshall are working to make a new version of The Thin Man, the Dashiell Hammett novel about drunk detective socialite Nick Charles, his charming young wife Nora and the unusual family mystery in which they become embroiled.
The question is: who plays Nora? Deadline says there is a shortlist that will begin to meet with Warner Bros. next week. Names on the list include Eva Green, Amy Adams, Emma Stone, Carey Mulligan, Rachel Weisz, Kristen Wiig, Emily Blunt and Isla Fisher. That is, just about every smart actress with free time in her schedule and an interest in starring opposite one of the few semi-legit movie stars in the business. And without knowing more about what Marshall, Depp and WB are specifically looking for, it seems pointless to try to play the guessing game based on a list that long.
The original The Thin Man, released in 1934, spawned a series of comic detective films and, later, even a TV show, and that precedent is fueling fire that the material might become a hit once again.
After the break, Albert Hughes' film Motor City might finally have a lead, and Hal Holbrook joins Gus Van Sant's new film Promised Land.
The first film Albert Hughes will make as a solo production without brother Allen (the two made films such as Dead Presidents and The Book of Eli together) is meant to be Motor City, a revenge script featuring a strong but mostly silent leading man. That 'mostly silent' bit isn't an exaggeration, as the script has only a few lines of dialogue — possibly only one line, in fact.
But it has been having trouble locking down a lead actor. Dominic Cooper was once going to make the film, and he was briefly replaced by Jake Gyllenhaal. Jeremy Renner was offered the role in the wake of Gyllenhaal's quick departure, but passed. Now Gerard Butler is in talks to play "a felon who, after being released from prison, begins tracking down the men who framed him."
You might think the parade of actors who have flirted with the lead role implies that it isn't worth taking, but reportedly it is that most pedestrian reason that forced changes so far: scheduling conflicts. And the supporting cast isn't bad so far: Amber Heard is the female lead and Gary Oldman plays the bad guy. [Variety]
Finally, there's Promised Land, which I just mentioned, if not by name, earlier today when talking about Ben Affleck's potential new gig. Promised Land is written by John Krasinski and Matt Damon with a story by Dave Eggers, and was once going to be directed by Damon. That didn't happen, but Gus Van Sant will now make the film. Damon stars as a salesman whose life is turned upside down when he hits a new town, and Rosemarie DeWitt and Frances McDormand are in supporting roles.
Now the great Hal Holbrook, who has had a good run on the screen in recent years thanks to Into the Wild, That Evening Sun, Sons of Anarchy and the forthcoming Lincoln, is in talks to join the film. He'll play a small-town engineer who opposes a corporate takeover spearheaded by Damon's character. Krasinski will be a rival exec to Damon, and McDormand will be Damon's 'by the book' sales partner, while DeWitt is a local teacher who catches the eye of both Damon and Krasinski. [Variety]