'House At The End Of The Street' Trailer: Can Jennifer Lawrence Survive A House Of Horror?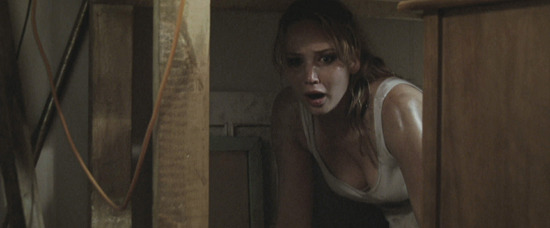 Jennifer Lawrence is really covering all the bases. She's got a resume with acclaimed indies (Winter's Bone, Like Crazy), the reboot (X-Men: First Class) and the giant blockbuster hit (The Hunger Games). But she has also shot a role in a somewhat old-fashioned looking horror thriller called House at the End of the Street.
Lawrence plays the daughter of Elisabeth Shue, and the two women move into a new home right near a place where a murder once took place. (The house of horrors helps keep rent down in the neighborhood.) The action looks like what someone influenced by Wes Craven's early efforts might have cooked up. Think of Last House on the Left, perhaps without all the rape — this is a PG-13 thriller. The trailer isn't quite as old-fashioned, however, as it summarizes the action of the film in reverse order, so we see Lawrence in scream queen mode right off the bat.
Check out the trailer below.
Mark Tonderai directed House at the End of the Street, which also features Max Thieriot and Gil Bellows. It opens on September 21. Thanks to MTV for the trailer.
Seeking a fresh start, newly divorced Sarah (Oscar®-nominee Elisabeth Shue; Leaving Las Vegas, Piranha 3D) and her daughter Elissa (Oscar®-nominee Jennifer Lawrence; X-Men: First Class, Winter's Bone) find the house of their dreams in a small, upscale, rural town. But when startling and unexplainable events begin to happen, Sarah and Elissa learn the town is in the shadows of a chilling secret. Years earlier, in the house next door, a daughter killed her parents in their beds, and disappeared – leaving only a brother, Ryan (Max Thieriot, My Soul to Take), as the sole survivor. Against Sarah's wishes, Elissa begins a relationship with the reclusive Ryan – and the closer they get, the deeper they're all pulled into a mystery more dangerous than they ever imagined.