Kevin Smith Wants To Make 'Clerks 3'...As A Play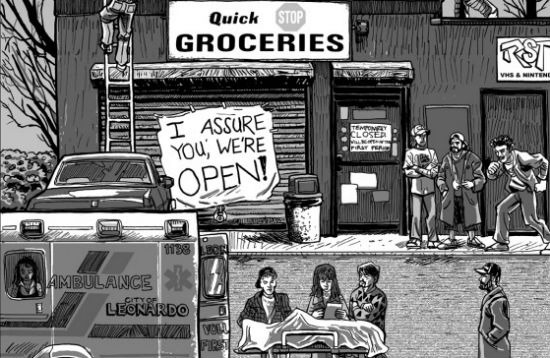 Kevin Smith has one more movie in him and then he's done with filmmaking. But that doesn't mean his stories are going to end. At a recent Q&A in Los Angeles, Smith revealed there is one way he'd make a third Clerks: if he could do it on Broadway. Watch the video of Smith's reveal and more after the break.
When Smith announced his imminent retirement he admitted a third Clerks was possible way down the road:
There's possibly a Clerks 3. If I have something to say in my late 40s about being in my late 40s, I'll think of [Clerks'] Dante and Randal. Shy of that, I don't have any more movies I want to make.
This clip from a recent book signing in LA is a follow-up to that. Thanks to /Film reader Angel C for the video and heads up. Here goes:
Anyone who has been following Smith's Twitter recently knows he's become obsessed with The Book of Mormon and, as you saw above, Smith was inspired to possibly do Clerks 3 as a 6-month limited run on Broadway. He first told star Jeff Anderson (who played Randall in both films) who surmised it was a drug-induced idea. Smith didn't deny this, but, history has shown us some of the best ideas were hatched under the influence. At least artistic ones.
A Smith play makes almost too much sense. He touches upon it in the video but, being as Smith himself admits to not being a very visual director, a play takes the camera out of the equation. The focus is almost primarily on the characters and the dialogue, which is Smith's strong suit. Plus, since he'll stop making films after Hit Somebody in favor of a career of innovation (podcasts, independent distribution, etc) sequelizing two films with a Broadway show is just the kind of new idea he could get excited about. And fans would pour out to see it, as we've seen not only with his sold out Q&A's from Carnegie Hall to the Sydney Opera House, but the successful four-walling of Red State last year.
Smith tweeted he'd like to launch the show at the end of 2014 but only if Anderson commits.
Do you think this idea will ever happen? Would you show up for a Clerks Broadway comedy?