'Safety Not Guaranteed' Trailer: Is Mark Duplass Really Able To Travel Through Time?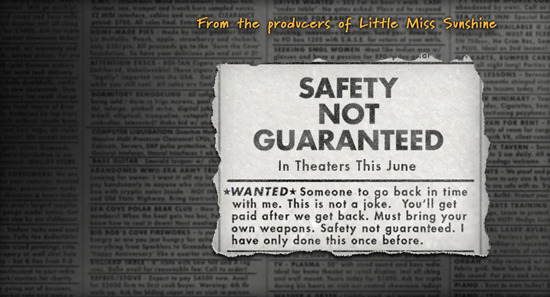 Derek Connolly and Colin Trevorrow had a pretty great idea for a script: take a wacky real-life classified ad, one looking for a time-travel partner, and expand it into a strange comedy. The result is Trevorrow's film Safety Not Guaranteed, which wowed Pete at Sundance and was quickly picked up for distribution.
Watching this first trailer for the film, I can see why Pete responded so well to the project. Aubrey Plaza looks great as one of two magazine interns an editor (Jake Johnson) takes along to track down and interview the guy (Mark Duplass) who placed the ad. The trailer makes the film out to be living right in the sweet spot between warm and weird comedy, and while I get the idea that this shows me quite a lot, I still want to see the full film.
Going back to the Sundance reception, Pete seemed to like the primary story more than the sidelines involving Johnson and his old flame (Kristen Bell) and some of the story for the other intern, played by Karan Soni. But that main storyline was more than strong enough for him:
I've been calling this the most ridiculous yet awesome misfit time travel relationship comedy ever made, which in itself is ridiculous. The fact of the matter is that there is no other movie I've seen quite like this. Sure, the whole "is he insane or is he really –insert some sci-fi thing here–" plot has been used before... but Safety does it a bit differently; not like you've seen before.
Hit Apple for the HD trailer. Safety Not Guaranteed hits theaters on June 8.
From the producers of Little Miss Sunshine – When an unusual classified ad inspires three cynical Seattle magazine employees to look for the story behind it, they discover a mysterious eccentric named Kenneth, a likable but paranoid supermarket clerk, who believes hes solved the riddle of time travel and intends to depart again soon. Together, they embark on a hilarious, smart, and unexpectedly heartfelt journey that reveals how far believing can take you.