Owen Wilson And Zach Galifianakis To Star In 'You Are Here,' From 'Mad Men' Creator Matthew Weiner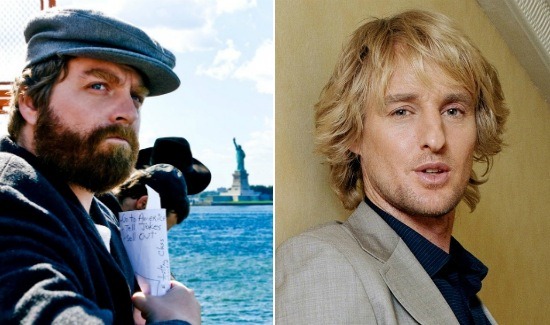 Matthew Weiner has taken a very unique path to feature film directing: write on one of the most popular cable shows of all time, then create another. Those shows are The Sopranos and Mad Men, and Weiner is using his cachet to finally put together a decade old passion project he could never previously get produced. It's called You Are Here, and will now star Owen Wilson, Zach Galifianakis and possibly Amy Poehler. (She's currently in talks.) Weiner will start shooting this May in North Carolina, once he's wrapped this season of Mad Men. Read more after the break.
Both Variety and The Hollywood Reporter first posted news about the film. Deadline describes the film as follows:
A local weatherman and freewheeling bachelor (Wilson) and bi-polar man-child Ben (Galifianakis) are childhood best friends who embark on a road trip home after Ben discovers his estranged father has passed away. Once there, Ben learns his eccentric father had big plans for him and he's inherited a whole lot more than his father's money. As Ben struggles with his new responsibilities, his friendship with Steve is tested by the complications of his inheritance, his sister's (Poehler) ambition, and Steve's desire to be with his father's beautiful young widow.
That sounds radically different from the hard drama Weiner is best known for. Which, in turn, means it makes perfect sense as a follow-up to Mad Men. Making something light, heartfelt and funny will surely be a relief after having your head wrapped around the pressure-filled world of a perennial award winner for so long.
Weiner said the following in a news release:
This movie has been my passion for eight years and to see it come together with Owen and Zach and Amy is a dream come true. I can't wait to get started because the movie is about everything I care about and I'm tired of reading it out loud to my friends.
As a fan of Mad Men, I'm anxious to see how Weiner takes that skill and adapts it for the big screen. He'll be following in the steps of former boss David Chase who is doing the same thing with Not Fade Away.