'Rise Of The Guardians' Teaser Trailer; DreamWorks Animation Tackles Mythic Figures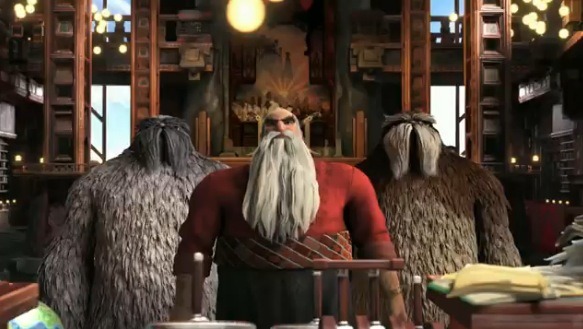 Santa Claus, the Easter Bunny, Tooth Fairy and Jack Frost are real and it's their job to protect the children of the world. That's the basic setup for DreamWorks Animation's upcoming 3D film Rise of the Guardians. The film is directed by Peter Ramsey, and written by David Lindsay-Abaire and William Joyce, based on the Guardians of Childhood books from the latter.
Featuring the voices of Alec Baldwin, Hugh Jackman, Chris Pine, Isla Fisher and Jude Law, the first trailer for the film has just been released and you can check it out below.
Head over to Apple to see the trailer in HD. Thanks to JoBlo for the embed.
Here's the official plot description:
RISE OF THE GUARDIANS is an epic and magical adventure that tells the story of Santa Claus, the Easter Bunny, the Tooth Fairy, the Sandman, and Jack Frost – legendary characters with previously unknown extraordinary abilities. When an evil spirit known as Pitch lays down the gauntlet to take over the world, the immortal Guardians must join forces to protect the hopes, beliefs and imagination of children everywhere.
I like the idea of these mythic characters powered by the belief of the world's youth, fighting to save them. However, the trailer didn't quite grab me. It all looks a little too Polar Express. Not so much through the animation, more with the settings and tone.
DreamWorks, though, has been doing a great job with their animated films recently, just not with their trailers. Films with less than inspired trailers (How to Train Your Dragon, Puss in Boots) are actually truly enjoyable family entertainment. With this prime Thanksgiving release date set, they seem to feel something similar will happen with Rise of the Guardians.
What do you think of the trailer?