Justin Lin Attached To Direct 'Lone Wolf And Cub'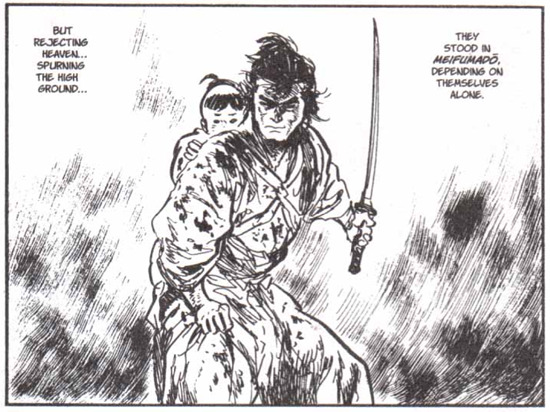 Kazuo Koike's long-running manga series Lone Wolf and Cub, which follows Ogami Itto, a ronin who travels the Japanese countryside carrying his toddler son Daigoro in a weapon-laden baby carriage, is a perennially-popular piece of comic book storytelling. In the '70s it generated a famous six-film series starring Tomisaburô Wakayama, with several of the films produced by his brother Shintaro Katsu (Zatoichi) and directed by Kenji Misumi.
Various filmmakers have tried to make new Lone Wolf and Cub movies with US backing, most notably Darren Aronofsky. Now Kamala Films has acquired the screen rights to the manga series and will produce a new film, or set of films, with 1212 Entertainment.
The good news is that David and Janet Peoples have been hired to write. David Peoples wrote Unforgiven and is credited on Blade Runner; the pair together wrote Twelve Monkeys. Not a bad hire at all. But there another factor that invites debate: Justin Lin, who began his career with Better Luck Tomorrow, but is now much better known as the director of the last few Fast and Furious films, is attached to direct.
Deadline has the info, but there's a lot we don't know. Will this be a straight adaptation of the manga? Or will the Peoples writing team bring it forward in time to be a modern gangster tale? And is there even a remote chance that the new film(s) will feature the wild violence and firehose arterial blood spray that characterized the '70s films?
Lin says,
I've long admired the Peoples and their enduring body of work. They're a wonderful match for Lone Wolf and Cub and I'm really looking forward to collaborating with them on this powerful, epic tale.
This won't be the first remake of the material. Lone Wolf and Cub has hit the screen in other incarnations, and those original films were edited into a couple of very violent, highly abbreviated films for the US market, starting with Shogun Assassin. Here's the trailer for Shogun Assassin, which I present because it features a good cross-section of the action from the series, and has a killer soundtrack. Sadly it doesn't give a hint of the super-weird voice-over written and recorded to represent Daigoro's perception of the action.