'Hotel Transylvania' Teaser Trailer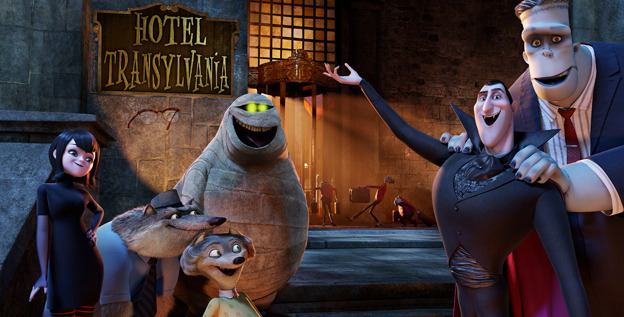 This is kind of an encore trailer presentation; not long ago we showed you an international version of the first trailer for Genndy Tartakovsky's Hotel Transylvania, but it was quickly pulled. Now we've got the same trailer, but with the original English-language soundtrack. So you can hear how Adam Sandler sounds as the film's family-friendly Dracula, for starters, and the quality is a lot better this time out, so the better monster designs and cute little visual gags come across much better.
I can't say I love Sandler's Dracula work, but I also don't find it to be particularly offensive. I do still like quite a few of the small visual touches in the trailer, and I hope to see a lot more of that in the final film.
In the film, Dracula (Adam Sandler) runs a retreat for monsters seeking to avoid humans, and he is planning to celebrate the birthday of his daughter Mavis (Selena Gomez). But the plan is complicated by the attentions of a regular ol' human (Andy Samberg). The cast also includes Kevin James (Frankenstein), David Spade (Quasimodo), Cee Lo Green (Murray, the singing mummy), Fran Drescher (the Bride of Frankenstein), and Steve Buscemi and Molly Shannon as a married pair of werewolves.
Hotel Transylvania opens on September 21.
Welcome to the Hotel Transylvania, Dracula's (Adam Sandler) lavish five-stake resort, where monsters and their families can live it up, free to be the monsters they are without humans to bother them.  On one special weekend, Dracula has invited some of the world's most famous monsters – Frankenstein and his bride, the Mummy, the Invisible Man, a family of werewolves, and more – to celebrate his daughter Mavis's 118th birthday.  For Drac, catering to all of these legendary monsters is no problem – but his world could come crashing down when one ordinary guy stumbles on the hotel and takes a shine to Mavis.