'Harold And Kumar/American Reunion' Writer/Directors Want To Someday Remake 'Back To The Future?' [Updated]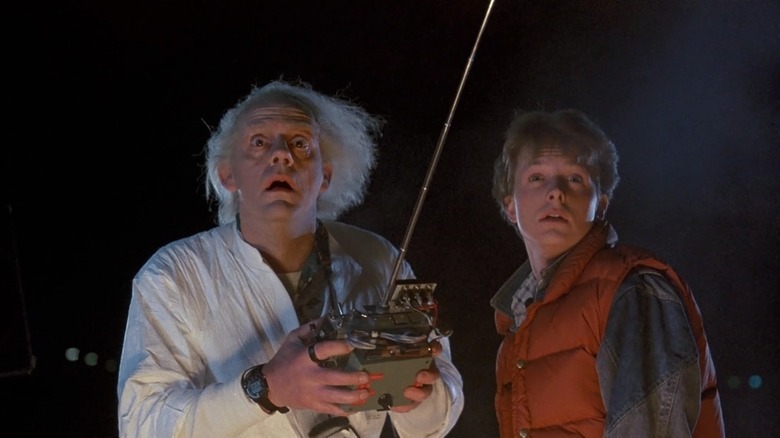 Yes, it's true. Jon Hurwitz and Hayden Schlossberg, the creators of the Harold & Kumar franchise and directors of upcoming American Reunion, have recently been quoted saying they'd like to remake Back to the Future. The pair just signed a first look deal at Universal and, in an interview about that, they mentioned the classic time-travel franchise as something they like work with a few decades down the road.
Are they being serious? Read the quote and some thoughts after the jump.
Update: Hurwitz has commented and explain the quote via Twitter. Check it out below.Deadline broke the news of the deal but Moviehole got the quote out of the young filmmakers. Here's Hurwitz:
We want Back to the Future, just come out and say it. That's our favorite trilogy. We're always having this conversation....
Scholssberg continues:
I wouldn't want to do it now because people would be like, 'Oh, there's no way it will be as good as the original.' But 30 years from now when Spielberg's like 90 and those guys are kind of on their way out, and those movies just look really old because we're watching movies that are old, literally in two dimensions or something, it would be great to have all these classics that you're able to remake.
You can read more of the quote at Moviehole, where they talk about the inherent excitement around franchise sequels and why you'd have to remake Back to the Future instead of doing a sequel.
Before you start stocking up on tar and feathers, it's important to remember filmmakers are fans too. Just like us, writers, directors and actors also grew up watching and obsessing over movies. They just happen to be lucky and talented enough to turn that passion into a career. So, with that foreword, we'll continue with the story.
First things first, Hurwitz and Scholssberg don't come out and say they're 100% going to remake Back to the Future or that Universal has okayed it. These guys are just huge movie fans and, knowing that, the quote comes off more like the hypothetical ramblings of excited fanboys.
Even so, these ramblings have a sound logic. Hurwitz and Scholssberg will be working at Universal for the foreseeable future and that is the studio who released Back to the Future. And, yes, it's certainly plausible someone will try to remake the film at some point. But would real fans really want to do that themselves? Wouldn't it be a more fan thing to do to create your own film inspired by the Robert Zemeckis classic?
Personally, it seems to me like Hurwitz and Scholssberg were just geeking out about their good fortune. Do you agree?
UPDATE: As expected, it was a joke.
@slashfilm LIke your article, but the truth is, we were joking around and it was taken out of context. Nobody respects BTTF more than us.
— Jon Hurwitz (@jonhurwitz) March 27, 2012
After that tweet, Hurwitz went on to explain the context that was left out of the quote. Here's a bunch of his tweets strung together:
It all started with us talking about how as diehard Karate Kid fans, we were furious when KK was being remade. Then it got into a conversation about the business of remakes. And we talked about how KK proved that nerds like us make up such a small portion of the public and people embraced KK. Then we talked about how for business reasons all classics will one day be remade. We speculate BTTF will one day be remade, because its so fucking awesome the world needs those stories. But if it were to be remade, we hope its WAAAAAY in the future. We were totally joking when saying we wanted it. Joking about remaking BTTF is like when Larry David jokes about Hodgkin's or Trey & Matt joke about AIDS. One of the few truly taboo topics.