Wachowskis Still Prepping 'Jupiter Ascending,' Leads Offered To Channing Tatum And Mila Kunis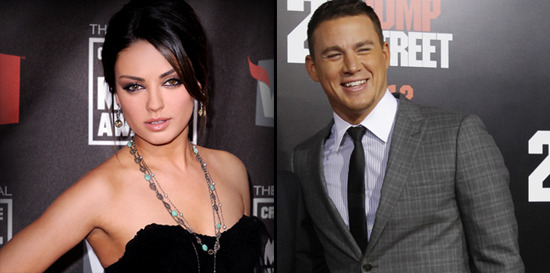 For some time, Andy and Lana Wachowski were trying to follow up Speed Racer with a film said to be a hard-R gay love story set during the Iraq war, with leads being a US soldier and an Iraqi citizen.
That movie didn't happen, perhaps because of the politicized nature of the script, and instead the Wachowskis teamed with Tom Tykwer to make the very intriguing Cloud Atlas. Now Cloud Atlas is wrapped, and the Wachowskis are turning towards their next film. That looks to be Jupiter Ascending, an original sci-fi story from the pair. Now the lead roles in the picture have been offered to Mila Kunis and Channing Tatum, who is looking to have a banner year in the wake of 21 Jump Street.
Deadline doesn't have many details on Jupiter Ascending, but says the film is "on track to start production later this year."
We originally heard of Jupiter Ascending under the title Jupiter Rising, when it was called a priority project at Warner Bros. After the title clarification, a Spring 2012 start date floated up, along with a rumor that the film could be about warring space-based colonies. We also keep hearing the term "franchise potential" when the project is discussed.
Natalie Portman, who has been linked to a couple Wachowski projects after starring in V For Vendetta (which they produced) was supposedly being courted to star in the film, but now it looks like her Black Swan co-star Mila Kunis will get the nod instead.
Unfortunately that's all we've got right now. Without knowing more about the story it is impossible to make any guesses about how either actor will fit into the project.
Kunis has two big films coming up: Seth MacFarlane's Ted, and Sam Raimi's Oz: The Great and Powerful, while Tatum is riding on the dual successes of The Vow and 21 Jump Street, and has G.I. Joe: Retaliation and dual Steven Soderbergh films Magic Mike (completed) and Bitter Pill (about to shoot) coming up in the next year or so.