New Footage In 'Dark Shadows' And 'Snow White And The Huntsman' TV Spots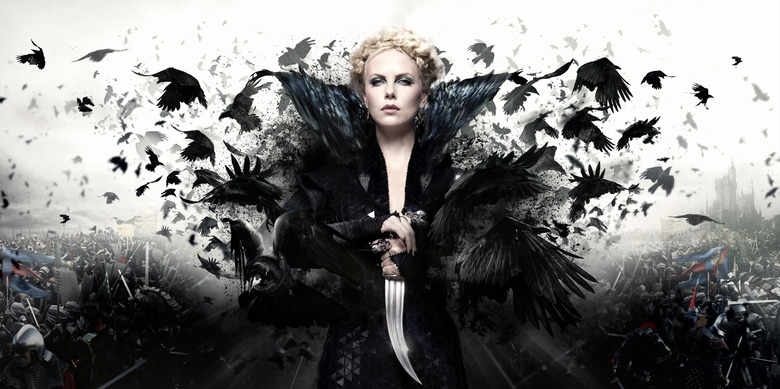 If you watched last night's Mad Men premiere you might have caught a couple of TV spots for upcoming films for which we've only just started to see a lot of footage. Tim Burton's Dark Shadows has two new spots, both with bits of new footage, and Snow White and the Huntsman had a couple new spots debut over the weekend, as well.
The spot with the best new footage is, sadly, the one we have in the poorest quality. The second Snow White and the Huntsman TV spot opens with some footage of the Queen (Charlize Theron) and a young Snow White in less combative days; I think those clips are new to all of us. And the Dark Shadows spots have some new bits of Johnny Depp being, well, Johnny Depp. Check out all four spots below.
First, Dark Shadows.
Dark Shadows also stars Chloe Moretz, Bella Heathcote, Helena Bonham Carter, Jonny Lee Miller and more. Dark Shadows opens on May 11th.Snow White and the Huntsman will be released on June 1, 2012.
In the epic action-adventure Snow White and the Huntsman, Kristen Stewart (Twilight) plays the only person in the land fairer than the evil queen (Oscar® winner Charlize Theron) out to destroy her.  But what the wicked ruler never imagined is that the young woman threatening her reign has been training in the art of war with a huntsman (Chris Hemsworth, Thor) dispatched to kill her.  Sam Claflin (Pirates of the Caribbean: On Stranger Tides) joins the cast as the prince long enchanted by Snow White's beauty and power.
The breathtaking new vision of the legendary tale is from Joe Roth, the producer of Alice in Wonderland, producer Sam Mercer (The Sixth Sense) and acclaimed commercial director and state-of-the-art visualist Rupert Sanders.