'The Twilight Saga: Breaking Dawn Part 2' Teaser Trailer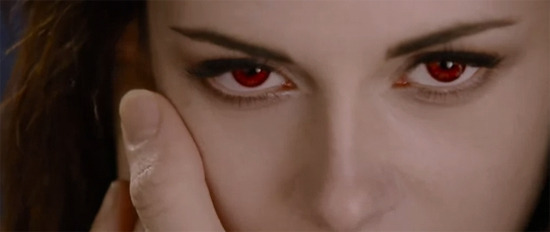 Here's the teaser trailer for the final film in the Twiilght series — or, at least, the final film until the merged Lionsgate/Summit company decides to reboot it altogether. Many of you may have already seen this in theaters, since it played in front of The Hunger Games, which just had the third-highest opening weekend of all time, behind Harry Potter and the Deathly Hallows Part 2 and The Dark Knight.
The kicker shot in this teaser is pretty good: Bella (Kristen Stewart) in the woods, hunting as a new vampire, having been turned at the climax of the last film in order (ironically) to preserve her life. The thrust of this final film, which follows the marriage of Edward (Robert Pattinson) and Bella, and the rapid in utero development and violent birth of their child, is a confrontation with the vampire ruling class that has been seen here and there throughout the series. There's no real hint of that here, however. This is all about Bella's new non-human nature.
Check out the teaser for The Twilight Saga: Breaking Dawn Part 2 below.
One line in this teaser will probably cut right to the heart of both the pro- and anti-Twilight camps: Edward embraces Bella and comments "we're the same temperature now." For those who see grand romance in this series, that might be a beautiful line. For those who find the series' depiction of romance less than compelling, it will likely have a very different feel.
The Twilight Saga: Breaking Dawn Part 2 opens on November 16.