Charlize Theron Promises Death In 'Prometheus' TV Spot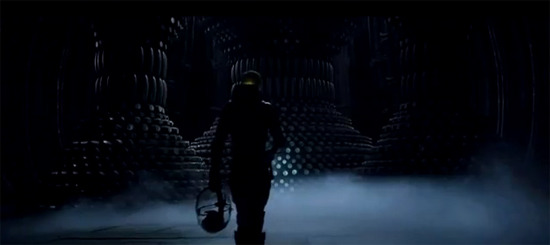 We've gone from being ravenous for every bit of footage we can get from Ridley Scott's Prometheus to being at a point where we might actually be sated until the film's June 8 opening. I know I don't want to see too much more than what we've been shown in the collection of footage that landed in the past week.
But I'll take a just a few new spots, including a dire warning from Charlize Theron and a demonstration of the affection between Noomi Rapace and Logan Marshall-Green. Those bits and a couple more are part of the new stuff in the first TV spot for Prometheus, which you can see below. The other notable part of this spot is that it finally puts the word Alien right in the marketing for this movie, which acts as a prequel to the 1979 film.
Prometheus which will be released June 8. It stars Noomi Rapace, Michael Fassbender, Charlize Theron, Idris Elba, Sean Harris, Kate Dickie, Rafe Spall, Logan Marshall-Green, Guy Pearce, and Patrick Wilson. Here's the official plot description:
Ridley Scott, director of "Alien" and "Blade Runner," returns to the genre he helped define. With PROMETHEUS, he creates a groundbreaking mythology, in which a team of explorers discover a clue to the origins of mankind on Earth, leading them on a thrilling journey to the darkest corners of the universe. There, they must fight a terrifying battle to save the future of the human race.