'Battleship' Featurette Explains Goldilocks Planets And Why It's A Bad Idea To Reach Out To Alien Life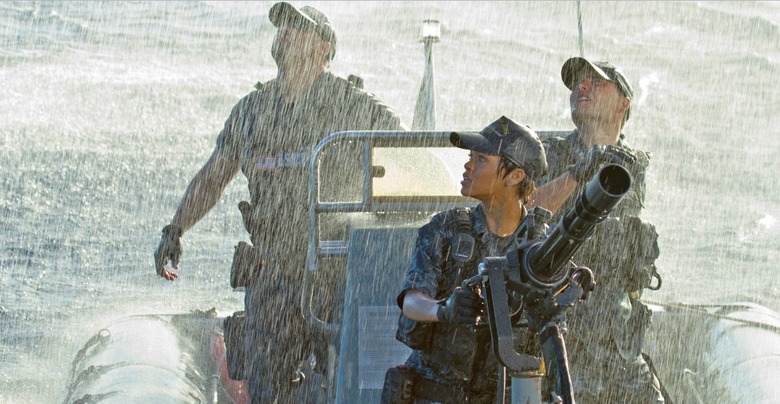 Earlier this week at WonderCon, director Peter Berg revealed that he'd taken inspiration for his new movie Battleship from an unlikely source: Stephen Hawking. Berg had been watching a documentary in which the iconic scientist discussed Goldilocks planets, so called because their distance from the sun is "just right" for sustaining life. NASA has been trying to send signals to those planets in an attempt to discover extra-terrestial intelligence, but according to Berg, Hawking believes this to be a terrible idea because aliens knowing of our existence can do just as much damage as good. Berg then spun that idea into the plot of the film.
Which sounds pretty interesting, but unfortunately, most of the trailers we've seen so far haven't gone into much detail about the sci-fi storyline. So far, they've shown us who the characters are and what it looks like when Berg tries his best to be Michael Bay, but we've had no sense of what exactly the aliens are doing here. Now a new featurette focuses on just that, explaining what exactly a Goldilocks planet is and how the crew of the USS John Paul Jones find themselves to be defending our planet from vicious otherworldly visitors. Watch it after the jump.
[via MovieWeb]
I think this is by far the most intriguing thing we've seen from Battleship so far. I'd love it if they actually explored the twist of the aliens being here because we called them over, rather than just using it as a flimsy excuse to get started on the big, expensive, explosive action pieces, but either way it's a neat reversal of the typical alien-invasion story. Maybe Battleship won't be a totally mindless Transformers wannabe after all.
Battleship hits May 18.
Synopsis:
In Summer 2012, the battle for Earth begins at sea.
Peter Berg (Hancock, The Kingdom, Friday Night Lights) directs and produces Battleship, an epic-scale action-adventure that unfolds across the seas, in the skies and over land as our planet fights for survival against a superior force.
Battleship stars Taylor Kitsch as Lieutenant Alex Hopper, a naval weapons officer assigned to USS John Paul Jones; Alexander Skarsgård as Hopper's older brother, Stone, Commanding Officer of USS Sampson; global music superstar Rihanna, making her motion-picture debut as Petty Officer Second Class Cora Raikes, Hopper's crewmate and a weapons specialist on USS John Paul Jones; Brooklyn Decker as Sam Shane, Hopper's fiancee and a physical therapist specializing in the rehabilitation of military combat veterans; Tadanobu Asano, as Captain Yugi Nagata, Commanding Officer of the Japanese destroyer Myoko and Hopper's archrival; and Liam Neeson as Hopper and Stone's superior (and Sam's father), Admiral Shane, Commander of the Pacific Fleet.
Supporting the cast are Hamish Linklater as Cal Zapata, a scientist who mans the international satellite station in Hawaii that searches the skies for signs of life; Jesse Plemons as Jimmy "Ordy" Ord, a boatswain aboard USS John Paul Jones; New Zealander John Tui as the ship's engine room expert, Chief Petty Officer Walter "The Beast" Lynch; and, in his professional acting debut, U.S. Army Colonel Gregory D. Gadson, a battalion leader who lost both legs in Iraq in 2007. Gardson plays Lieutenant Colonel Mick Canales, an Army combat veteran and double amputee who begins his recovery just as the alien attack begins.