Michael K. Williams Will Play Rapper Ol' Dirty Bastard In 'Dirty White Boy'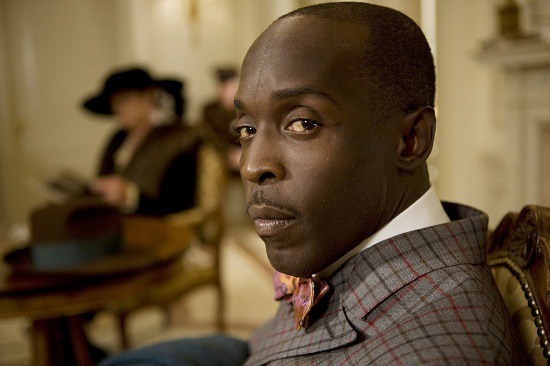 In the realm of films about iconic deceased rappers, Dirty White Boy has to take the cake. It's the story of how Wu-Tang Clan co-founder Ol' Dirty Bastard, aka Russell Jones, was partially conned into letting an unproven VH1 production assistant named Jarred Weisfeld manage him while the rapper was in jail. The move paid off, sparking an unlikely comeback, before ODB passed away due to a drug overdose at the age of 35.
ODB's story has been one several filmmakers and even his friends have been trying to get to the big screen but it seems this relationship was the hook that'll get it in cinemas first. First-time director Joaquin Baca-Asay will helm Dirty White Boy and he's already cast the lead: none other than The Wire and Boardwalk Empire's Michael K. Williams. The script is the first ever by Brent Hoff, an acquaintance of the pair. Read more after the jump.
Entertainment Weekly first broke the news of this casting and film. And though this wil be Baca-Asay's first directing gig, he's an experienced cinematographer whose worked on We Own the Night, Roger Dodger and even Jay-Z's video 99 Problems.Dirty White Boy will be produced by the team behind recent Oscar-winner Beginners, Lars Knudsen and Jay Van Hoy, who said the following in a news release:
We both knew full well who Ol' Dirty Bastard was but this story completely floored us. As filmmakers, we knew that this would make a great film and that Jarred Weisfeld would offer an actor a complicated and compelling character to play. This felt to us like Risky Business and 8 Mile, with equal elements of darkness, humor, and humanity.
Another producer, Todd Hagopian, added the following about Williams and the rest of the team:
We are thrilled to have the genius of Joaquin Baca-Asay behind the camera, directing this incredibly original screenplay by Brent Hoff. I know Michael K. Williams will leave audiences completely in awe as Russell Jones, the man behind the character 'Ol' Dirty Bastard.'
ODB's cousin and fellow Wu-Tang Clan founder Raekwon has reportedly been writing another film about the deceased rapper with Tracy Morgan and Eddie Griffin hoping to play the role. Each of them would certainly bring to life ODB's charisma, but Williams is simply a grand-slam casting coup.
Do you think the Ol' Dirty Bastard's life will make a compelling film? Does Williams have what it takes? Can this film be a hit?