'Cosmopolis' Red-Band Teaser Trailer: David Cronenberg And The Rebirth Of Robert Pattinson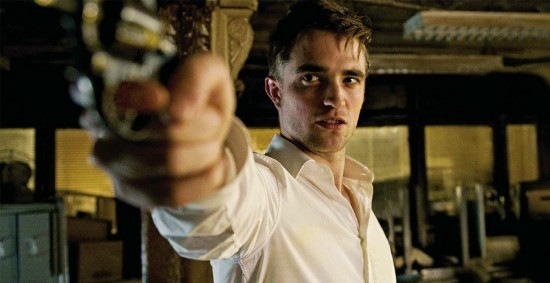 Well, hello, David Cronenberg! In 2012 the director is going to unleash his second film in two years, and for those who thought A Dangerous Method was too dry, it looks like Cosmopolis might be for you. A teaser has just landed for the film, and it looks nuts.
The film stars Robert Pattinson in an adaptation of a novel by Don DeLillo, and it looks like Cronenberg's most overtly sexual movie since Crash, and his most visually strange since eXistenZ. What we see here of Pattinson's character Eric Packer, a young billionaire with a rather specific and dark worldview, makes him seem to fit right in the mold of a classic Cronenberg character like Videodrome's Max Renn. "I'm looking for more... show me something I don't know" could have come right out of Renn's mouth. Check out the footage — which definitely isn't work-safe — below.
There was a lot of hand-wringing when Cronenberg's original choice for Packer, Colin Farrell, was replaced with Pattinson. But it looks like the chance might have been for the better. Seeing these hints of what Cronenberg has done with the character, and how messed-up he might be, I can't see Farrell getting the same sense of open-mouth surprise out of an audience that Pattinson will. He's not the guy that you expect to see doing this stuff, and that's part of why this works.
(And does anyone recognize the music in the trailer? Could that be a taste of Howard Shore's score for the film? He's done some great work for Cronenberg — the Crash score is so wonderful, and strange — but if this is his work, it sounds like they changed things up a bit.)
Cosmopolis also features Paul Giamatti, Kevin Durand, Juliette Binoche, Samantha Morton, Sarah Gadon, and Mathieu Amalric. It doesn't have a US release date yet. This teaser is for the French opening, which is scheduled for May 23.
New York City, not-too-distant-future: Eric Packer, a 28 year-old finance golden boy dreaming of living in a civilization ahead of this one, watches a dark shadow cast over the firmament of the Wall Street galaxy, of which he is the uncontested king. As he is chauffeured across midtown Manhattan to get a haircut at his father's old barber, his anxious eyes are glued to the yuan's exchange rate: it is mounting against all expectations, destroying Eric's bet against it. Eric Packer is losing his empire with every tick of the clock. Meanwhile, an eruption of wild activity unfolds in the city's streets. Petrified as the threats of the real world infringe upon his cloud of virtual convictions, his paranoia intensifies during the course of his 24-hour cross-town odyssey. Packer starts to piece together clues that lead him to a most terrifying secret: his imminent assassination.
[Twitch]