TV Bits: First Photos Of Jonny Lee Miller And Lucy Liu As Sherlock And Watson For CBS, Plus: More 'Game Of Thrones' Promos, 'The Office', 'Community', 'Luck', Mindy Kaling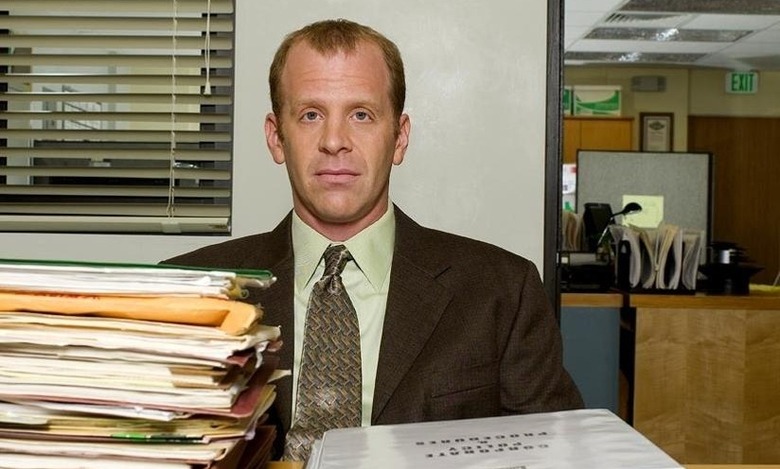 Is The Office about to lose another boss? After the jump:
Paul Lieberstein steps down as Office showrunner
Mindy Kaling's Fox pilot casts Ed Helms, Bill Hader, and Richard Schiff
Dan Harmon feels optimistic-ish about Community's future
Jonny Lee Miller and Lucy Liu are Sherlock and Watson
David Milch and Michael Mann open up about Luck
HBO releases still more Game of Thrones marketing
Meanwhile, negotiations to lock in core cast members John Krasinski, Ed Helms, Jenna Fischer, and B.J. Novak have begun for next season have begun, though they're on pause at the moment. In addition to Wilson and Lieberstein (who also plays HR rep Toby), Mindy Kaling is likely to depart for her new Fox pilot, while James Spader has announced that he'll be leaving the show in May. [Deadline]
Speaking of that new Mindy Kaling series, the Office star/exec producer will be bringing one of her old friends along for the ride when she heads over to Fox next season. Kaling's untitled pilot, which centers around "a Bridget-Jones type OB/GYN trying to navigate her personal and professional life," has just nabbed three notable guest stars.
Kaling's Office co-star Ed Helms will play potential love interest Dennis, a Wall Street analyst who goes on a blind date with protagonist Mira (Kaling). Another NBC vet, Saturday Night Live player Bill Hader, has signed on to play Mira's ex Tom, an "upbeat, humble, almost infinitely appealing boy-next-door type." Finally, former West Wing star Richard Schiff will make an appearance as a technologically challenged OB/GYN who was a free spirit in the '60s and '70s and loves to tell tales about his past. [EW]
Community fans have gotten used to fretting about the fate of their beloved series, but for once, things actually seem to be looking up for the series. Last week, Comedy Central announced that it'd be picking up the first three seasons of Community reruns. Then, when the show finally returned for its midseason premiere, it managed to beat out Fox's American Idol and CBS' March Madness to become No. 1 among adults and men 18-34 in its 8:00 PM timeslot. Sure, that probably had a lot to do with there being no new Big Bang Theory last week, but we'll take what we can get.
Showrunner Dan Harmon credited the show's fans and stars for spreading the word, as well as NBC for running on-air promotions during hits like The Voice. "If those two things are the two specific things that brought the show back, then we're in good shape, because the fans can keep doing that and NBC can keep putting ads on the air," he said. But he's not totally secure yet. "If it was just the halo effect of everyone tuning in (because of the drama surrounding the show's uncertainty), that scares me, because that means next week, that's not repeatable."
Still, as Variety points out, it seems unlikely that a network struggling with its original scripted shows would cancel one that has "the potential to surprise and grow." So while a Season 4 renewal is still far from certain, fans can take heart in the realization that this is about as positive an outlook as the show's ever had.
Since that whole "modernized Sherlock Holmes" thing worked out so well for the BBC, CBS is making its own stab at the premise with a new pilot titled Elementary. Their version stars Jonny Lee Miller and Lucy Liu as Sherlock and Watson, and the first snapshots of the actors on set have hit. Head to Just Jared to see more.
Miller's certainly no Benedict Cumberbatch, but there've been so many interpretations of the characters over the years that I don't think there's any one way they're supposed to look. This seems fine, I think. Love Sherlock's shoes. [via Cinema Blend]
If you were following Luck before HBO pulled the plug (and its disappointing audience numbers suggest that not a whole lot of you were) Vulture has the inside scoop on just what happened. Michael Mann and David Milch sat down for a candid interview with the publication in which they discussed those horse deaths, the cancellation, and where the drama would've gone in Season 2. Oh, and in case you're still wondering, no, Milch does not think a Deadwood movie is likely to happen. Read the full transcript here.
Let's close out with some more Game of Thrones marketing. HBO's been selling the hell out of this series, but I'm not complaining — every new teaser or trailer just gets me more amped for the new season. First, we've got another new trailer that shows off the dire straits the characters are in:
Here's a new poster that teases the rise of Daenerys Targaryen: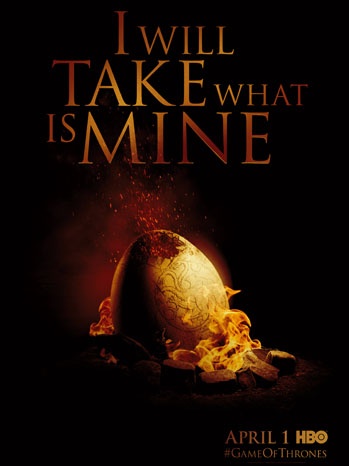 Finally, these "Pledge Your Allegiance" promos offer a closer examination of the various families vying for power in the Seven Kingdoms: Baratheon, Greyjoy, Lannister, Stark, and Targaryen.
Baratheon:
Greyjoy:
Lannister:
Stark:
Targaryen:
Game of Thrones' second season premieres Sunday, April 1. [AICN, THR]