TV Bits: 'Doctor Who' Announces A New Companion, Plus: 'Portlandia', '30 Rock', 'The Carrie Diaries', 'Mad Men', Olivia Wilde, Wes Anderson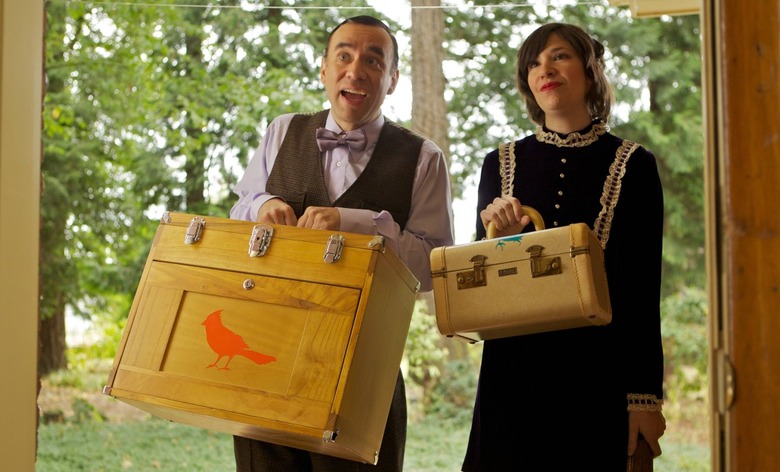 I don't even know where to begin with today's extra-packed edition of TV Bits, so let's just... begin. After the jump:
Olivia Wilde will return for the House finale
IFC renews Portlandia for a third season
Doctor Who casts its new companion
30 Rock plans to do another live episode
Wes Anderson teases a new TV commercial
January Jones' pregnancy means less Betty
A first look at the Sex and the City prequel
Fred Armisen and Carrie Brownstein will be putting birds on things for at least another year, as IFC has renewed Portlandia for a third season. The network made the announcement as part of their first ever upfront presentation, in which they also revealed several of the other titles on their upcoming programming slate.
Also returning to the network is a new installment of R. Kelly's Trapped in the Closet, a 22-chapter "hip hopera" that first aired on IFC in 2007. New series for IFC include two podcast-inspired comedies, Scott Aukerman's Comedy Bang Bang and the tentatively titled Maron. Head to Deadline to read the full press release.
After months of speculation, the BBC's Doctor Who has finally settled on a new companion to join Matt Smith's Eleventh Doctor on his time-traveling adventures. (Stop here if you're avoiding Doctor Who spoilers.) Jenna-Louise Coleman will make her first appearance in the Season (or Series) 7, which kicks off later this year. Coleman is probably best known for her turn on the Brit soap Emmerdale, though she made her big-screen debut last year with a small role in Captain America: The First Avenger.
As for the Doctor's current companions, Rory (Arthur Darvill) and Amy (Karen Gillen), exec producer Steven Moffat says they'll be making their exit in Episode 5, after "a final encounter with the Weeping Angels." Moffat hinted that the pair may not get a happy end. "Not everyone gets out alive and I mean it this time," he said. [AICN]
30 Rock's ratings weren't so great in its 8 PM timeslot earlier this season, but the series apparently has a plan to generate some heat. Alec Baldwin told Extra that the NBC comedy is preparing to do another live episode, after drawing positive reviews and high ratings when it tried the same trick in Season 5. That episode (titled "Live Show") actually had two separate tapings, one for the East Coast and another for the West Coast. "That's our last episode in production, even though it's not our last episode to air," said Baldwin. "So watch Thursday night, April 26." Will do, Mr. Donaghy. [Vulture]
We've still got a couple of months to go until Wes Anderson's Moonrise Kingdom hits theaters, but you'll be able to check out a new short-form work by the filmmaker in just a few days. And by "short-form work," I mean a TV spot advertising Sony's Xperia smartphones. The commercial teams Anderson with animation house Laika, best known for their 2009 fantasy Coraline. Watch the teaser for the ad below.
Six weeks and over 10,000 man hours were apparently poured into the new spot, so the least you can do is check it out, don't you think? Even if the "cute" little kids are kind of obnoxious. The full-length spot will hit March 24. [Super Punch]
Betty Francis (née Draper) (January Jones) seems to have attracted more than her share of haters over the last season of Mad Men, so I suspect many of you will greet this next bit of news with cheers. Matthew Weiner has let slip that the character will have a reduced role in the upcoming fifth season, mostly due to a real-life development in the actress' life. "We had to move [the shooting order] around because of January's pregnancy," he told HuffPo. "She was out for a chunk of the season, and she should be allowed to be ... She's not in [the season] that much, but you know, that's a biological reality."
The news comes as a bit of a surprise, not so much because of its actual content (Jones' pregnancy was bound to impact the season one way or another), as because Weiner is notoriously tight-lipped about upcoming developments on his show. But Weiner insists that this isn't really much of a reveal. "[January Jones's reduced role] is not a scoop. I mean, I think people know that," he said. Mad Men debuts this Sunday, March 25. [Vulture]
Personally, I think a lot of the appeal of HBO's Sex and the City was that the characters were somewhat older than the teens and twentysomethings you usually see on TV. But if you've ever wondered what Carrie Bradshaw was like as a high school student, The CW's prequel series The Carrie Diaries is happy to show you.
Shooting on the pilot is currently underway, and JustJared has the first pics of star AnnaSophia Robb (Soul Surfer) on set as young Carrie. She may not look much like Sarah Jessica Parker, but she certainly seems to have the character's wackadoodle fashion sense down.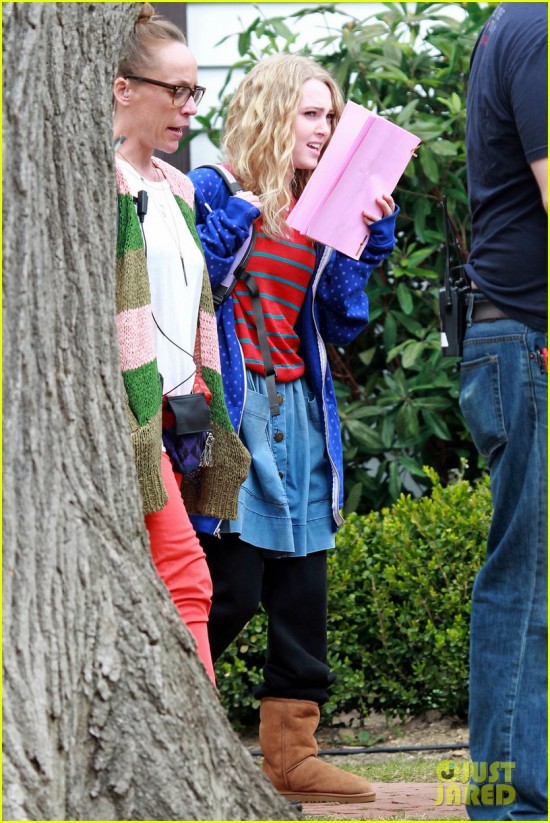 Katie Findlay (The Killing) and Ellen Wong (Scott Pilgrim vs. The World) also star in the '80s-set series, from Gossip Girl creators Josh Schwartz and Stephanie Savage.