Netflix Closes Deal For Eli Roth's Horror Series 'Hemlock Grove'; Famke Janssen And Bill Skarsgard To Star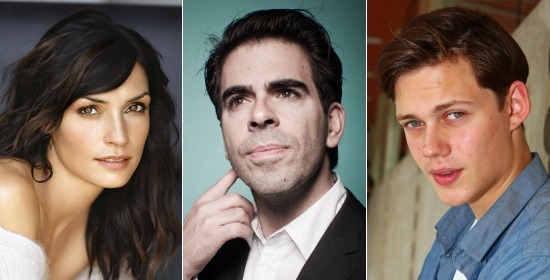 It's been a few months since we first reported that Netflix and Hostel helmer Eli Roth would be teaming for an original series titled Hemlock Grove, but it's just now that the pieces are really falling into place. This week, Netflix and Roth finalized a deal for a 13-episode run to premiere exclusively on the streaming service in early 2013, with Famke Janssen (X-Men) and Bill Skarsgård (Anna Karenina) in the leads. The series will be written by Brian McGreevey and Lee Shipman based on a gothic horror novel by McGreevey that'll hit shelves next week. More details after the jump.
Janssen will star as the controlling head of the wealthy Godfrey household, mother to arrogant Roman (Skarsgård) and sweet but deformed Shelly. When Roman falls under suspicion, he decides to clear his name by teaming up with another suspect, a Gypsy teen named Peter, to solve the mystery once and for all. Netflix Chief Content Officer Ted Sarandos describes the tone as "a sly blend of J.D. Salinger and Mary Shelley," which — if they can actually pull it off — sounds pretty good to me.
Though Janssen has worked primarily on the big screen, she has some experience with television as well, having played Ava Moore in Ryan Murphy's Nip/Tuck. She'll next reprise her role from Taken for its untitled sequel, due out this fall.
Skarsgård is better known in his native Sweden than he is here, but he seems poised to follow his father (Stellan) and older brother (Alexander) into Stateside fame. Skarsgård's next English-language film will be Joe Wright's Anna Karenina.
Hemlock Grove further pushes Netflix in the direction of original programming, but even as the service begins to more closely resemble a cable channel, it's embracing its differences from traditional television. "What's most exciting to me is creating the series for Netflix, which as a feature filmmaker is like telling a story in a new medium," said Roth in a statement. "Netflix as a platform is the perfect hybrid of cinema, television, and social networking, with the creative freedom to go as dark as the story needs."