'Battlestar Galactica: Blood And Chrome' Teaser Trailer: Young Adama Fights First-Wave Cylons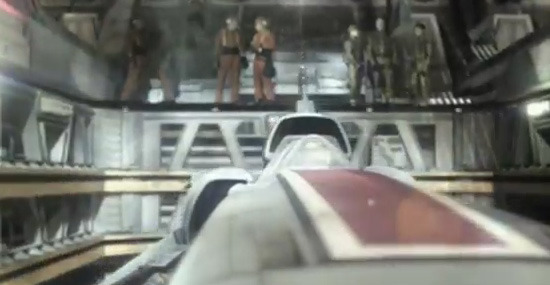 The fortunes of Blood and Chrome, the prequel to the revamped Battlestar Galactica, have risen and fallen over the past couple years. Planned at various times as a TV movie, a possible pilot for a new BSG series, and a web series, Blood and Chrome was conceived as an action-oriented project with most of the footage shot against greenscreen, composited with CG reconstructions of BSG sets that were scanned before the end of the show's fourth season. While the show was announced in late 2010, we still don't really know what's up with the plans to air the show at this point.
What we do know is that there is now a trailer for the story of a young William Adama as he fights in the first Cylon war. And while the trailer does nothing to tell us whether the script, acting or characters are any good, it looks very, very cool. Check it out below.
Update: Turns out the trailer wasn't quite official and has been pulled. And Syfy confirmed to EW that while the network will give the pilot a TV airing in the future, at some point, the plans for Blood and Chrome are web-based at best. So no new TV series for now.
If that's an official use of the Reznor/Karen O cover of 'Immigrant Song,' as heard in The Girl With the Dragon Tattoo, that would suggest that Syfy is really putting some money behind Blood and Chrome. The title cards suggest the same thing. But this is reportedly a leaked teaser, so we don't know all the details on its creation.
Blood and Chrome stars Luke Pasqualino, Ben Cotton, and Lili Bordán. Michael Taylor wrote from a story by Taylor, David Eick, Bradley Thompson and David Weddle. Jonas Pate directed. Here's the plot as we have it:
Battlestar Galactica: Blood & Chrome takes place in the 10th year of the first Cylon war. As the battle between humans and their creation, a sentient robotic race, rages across the 12 colonial worlds, a brash rookie viper pilot enters the fray. Ensign William Adama, barely in his 20?s and a recent Academy graduate, finds himself assigned to the newest battlestar in the Colonial fleet' the Galactica. The talented but hot-headed risk-taker soon finds himself leading a dangerous top secret mission that, if successful, will turn the tide of the decade long war in favor of the desperate fleet.
Update: Syfy President of Original Content Mark Stern said this to EW:
Though the vision for Battlestar Galactica: Blood & Chrome has evolved over the course of the past year, our enthusiasm for this ambitious project has not waned.  We are actively pursuing it as was originally intended: a groundbreaking digital series that will launch to audiences beyond the scope of a television screen.
[io9]