Sequel Bits: Seth Grahame-Smith Says 'Beetlejuice 2' Will Be A "True Sequel," Plus: 'Madagascar 3', 'Taken 2', 'Breaking Dawn', 'Leprechaun 7'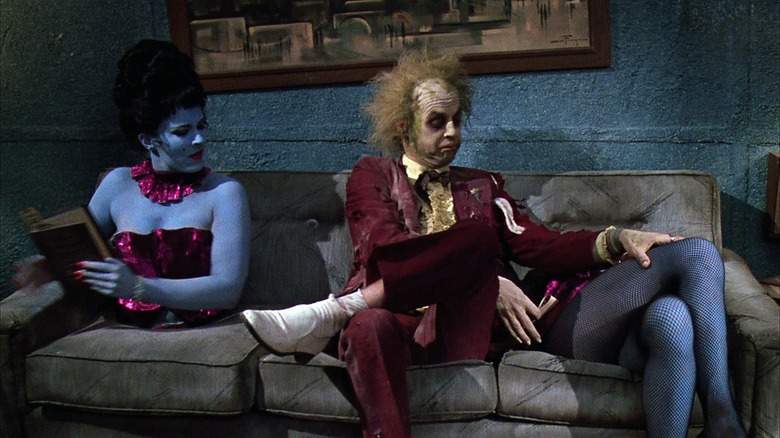 So much for Beetlejuice being a reboot and not a remake. Now writer Seth Grahame-Smith it's not a reboot either, but a straight-up sequel. Also after the jump:
Madagascar 3 gets a cute new poster to go with its cute new trailer
There's a teaser for the upcoming teaser for The Twilight Saga: Breaking Dawn Part II
Maggie Grace talks Taken 2 and not fixing things that aren't broken
Warwick Davis does not want a Leprechaun remake, but he has an idea for a sequel
I have a rough idea of what it's gonna be. However—I should stress this—it's not a remake, it's not a reboot, it is a true sequel with Michael Keaton as the title character Beetlejuice. The thing that Tim and Michael and I all agree on, and is most important for me is, I don't wanna be the guy that destroys the legacy and the memory of the first film; I would rather die. I would rather just not make it, I'd rather just throw the whole thing away than make something that pays no respect and doesn't live up even close to the legacy of the first film.
Grahame-Smith later followed up with a hint about what the central premise might be. "This will be a true 26 or 27 years later sequel," he said. "What's great is that for Beetlejuice, time means nothing in the afterlife, but the world outside is a different story." That's actually not a bad starting point, and it's certainly better than a reboot or remake that recasts Keaton's iconic role. Beetlejuice 2 has not announced a start date at this time. [Collider]
Earlier today, DreamWorks unveiled the first full-length trailer for its animated kiddie adventure Madagascar 3: Europe's Most Wanted, and now the marketing team has released a poster as well. In addition to the core quartet of Alex the lion (Ben Stiller), Marty the zebra (Chris Rock), Gloria the hippo (Jada Pinket Smith), and Melman the giraffe (David Schwimmer), the image also offers glimpses of new characters Vitaly the tiger (Bryan Cranston), Gia the jaguar (Jessica Chastain), and Stefano the sea lion (Martin Short), along with villainous animal control squad captain Chantel DuBois (Frances McDormand). And, as always, the penguins.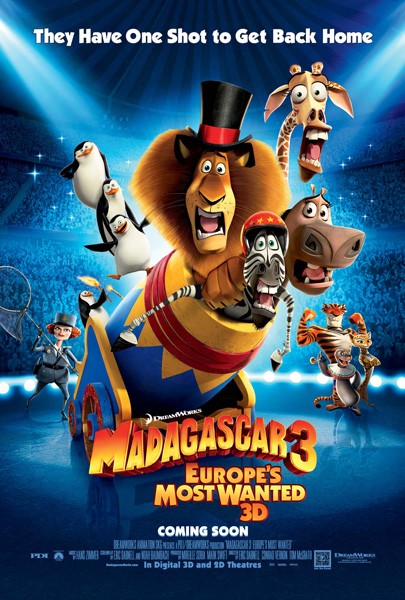 Madagascar 3: Europe's Most Wanted will be released June 8. [IMP Awards]
This weekend's opening of The Hunger Games marks a big day for Twilight fans, and not just because Katniss, Gale, and Peeta are being positioned as the box-office successors to Bella, Edward, and Jacob. The first teaser for the final entry in The Twilight Saga, Breaking Dawn Part II, is set to debut in front of The Hunger Games in theaters this weekend. With Lionsgate marketing the hell out of their teen-oriented movie, Summit's dropped a short little teaser for their teaser as well.
Early Hunger Games marketing played up the Twilight-ish love-triangle angle, but now it seems like Twilight is the one taking tips from The Hunger Games. Doesn't that opening remind you of that first Hunger Games teaser, what with the heroine running through the woods?
Breaking Dawn Part II opens November 16. [CinemaBlend]
While doing press for Lockout, star Maggie Grace touched upon a different Luc Besson-penned thriller on her upcoming slate, Taken 2. Asked about the sequel, the actress said, "We actually wrapped just a couple weeks ago," noting that most of the filming had been done in Istanbul with much of the interior shots in Paris. Grace then offered her thoughts on what the sequel would have to offer fans:
As far as pleasing a fanbase that really loved the first one, yeah, we hope they like it. You're never going to get it right for everybody, and it's also been a while since the first one, so [it's about] bringing all the elements together that worked the first time, but still keeping things fresh. I think they did a great job with that. They didn't fix something that wasn't broken. The elements that were amazing about the first one — the pace, and the way it just rachets up and doesn't stop, and the moral of the story is still 'Don't mess with Liam Neeson' — that hasn't changed. But certainly the plot, it's more of a personal vendetta this time, it's more compelling in some ways, and it's not the plot that people expect. It's a difficult thing to replicate. I can't get abducted again.
Grace also confirmed at least one element of the synopsis: "It's a family vendetta." Also starring Famke Janssen and Rade Serbedzija, Taken 2 hits theaters October 5. [Collider]
If you rolled your eyes at last week's news of a Leprechaun remake, you weren't the only one. Star Warwick Davis recently made his feelings clear during Facebook chat promoting the original six-film series' on demand and digital release:
I think it would be a shame to remake the original 'Leprechaun' film. It is a cult classic. It should not be touched in the same way the[y] should not have remade 'Psycho'. I think there is a lot more to explore with the character, so that should be done with a sequel.
He's not, however, entirely against the idea of revisiting the sinister creature. Davis revealed one sequel idea he'd had, and floated a few others for good measure.
I pitched the 'Lep vs. Pirates' idea to Johnny Depp while we were shooting 'Life's Too Short'. He didn't say much. There is so much potential for the character. I think a road movie would be fun. The Lep is best when encountering different types of people. I'd also like to see a female Leprechaun – she's even meaner though and makes the original leprechaun seem soft. I'd love to play her too!
It seems obvious that Leprechaun will be back in one form or another. So what say you? Would you rather see a remake, or one of Davis' sequel ideas? [STYD]