Michael Bay Says The New 'Teenage Mutant Ninja Turtles' Are Aliens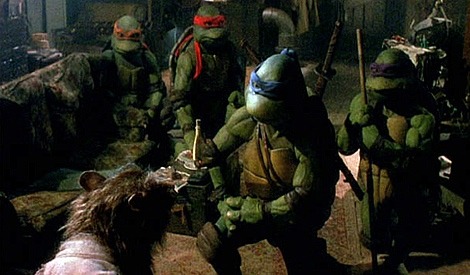 Michel Bay is making Teenage Mutant Ninja Turtles fans nervous. Set aside for the moment any question about whether or not the turtles are anything people should be nervous about — if you're going to make a movie about mutant turtles, that's what they should be, right? But a recent statement from Bay suggests that he's really making a movie about aliens rather than about turtles that rapidly evolve into bipedal creatures thanks to mutagenic ooze.
Speaking about the upcoming Teenage Mutant Ninja Turtles, which Bay's Platinum Dunes is producing and Jonathan Liebesman (Battle: Los Angeles, Wrath of the Titans) will direct, Bay said:
These turtles are from an alien race, and they are going to be tough, edgy, funny, and completely lovable.
Here's the video clip:
Bay hasn't yet had anything to say on his own Shoot for the Edit forums, which is where he usually speaks out when questions arise. The director (who is acting as producer on TMNT) could have misspoken, or could be referring somehow to an alien origin leading to the turtle mutation — maybe the ooze is some alien stuff, like the weird energy source in Chronicle that makes the kids develop powers. Or maybe the turtles are really aliens. And again, we're talking about mutant ninja turtles. But they're mutant ninja turtles with a lot of fans, and if you're going to make a film about them, then why bother changing it up?