/Film Interviews: Timur Bekmambetov And Seth Grahame-Smith Talk 'Abraham Lincoln: Vampire Hunter' At WonderCon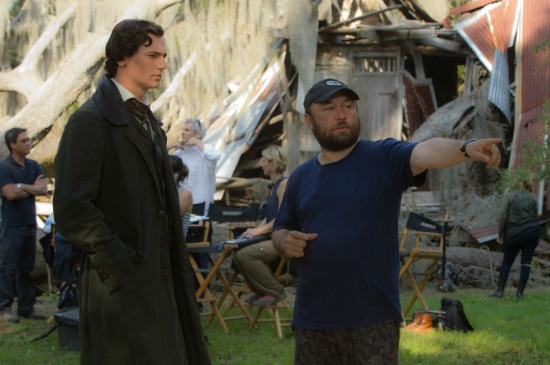 One of summer's biggest wildcards is the 3D, hyper-stylized, historical action-horror film Abraham Lincoln: Vampire Hunter. Based on a novel of the same name by Seth Grahame-Smith (who also wrote the screenplay) the film is directed by Timur Bekmambetov and tells the fictional story, infused with a lot of non-fiction, of how Abraham Lincoln decicated his life to killing vampires after losing a family member. It's a biopic of our 16th President, played by Benjamin Walker, just with vampires everywhere.
If you saw our WonderCon video blog you heard about the footage that was shown but, before that happened, I got about two minutes with both the director and screenwriter to talk about the film. For Bekmambetov, I talked about how this film was different visually from his others. With Grahame-Smith, I asked what Timur brought to the project that he couldn't imagine when writing it as well as the public's reaction to the latest trailer for Dark Shadows, a film he wrote for Tim Burton, who also produced Vampire Hunter. Read my mini-interviews after the jump.
First up, Timur Bekmambetov:
/Film: You're obviously a very visual director. In that sense, What about this movie distinguishes it from your other movies like Wanted or Night Watch?
Bekmambetov: Because it's based on the real facts, it's based on the real characters. And to make it right we had a lot of researchers. We collaborated with a lot of scientists, historians, the Springfield museum, Lincoln's museum, Library of Congress, to ground it, to ground the fantasy story and make it real. That was really, really important.
When you come to a convention like this, how do you decide what footage to show? You don't want to give away everything but you want to get everyone excited,
We're still finishing the movie and to tell you the truth, I didn't decide. I show what I have. [Laughs]
Make sense. It's a crowded summer.A lot of big superhero movies and famous properties, then there's you guys. An original thing. Are you worried that you'll get over looked amongst all the other big properties?
No, I think it's what makes us unique. We have a very unexpected, unpredictable concept and name. And I think people will come, especially June 22. It's the shortest night of the year. It's the only chance for us to fight with vampires on the shortest night.
Next up, author and screenwriter Seth Grahame-Smith:
/Film: You're the architect of this world, both writing the book and adapting the screenplay, what did Timur bring to the film that you didn't see when you were creating it?
Grahame-Smith: When I was writing the book, I saw all this unfolding in a very old fashioned, historical, biopic kind of way. And then obviously you get Timur involved in it and all of a sudden you're in this crazy, high octane, otherworldly action universe. So what I could not have imagined was the size and the scope of the sequences that are in this movie. All of those things people see: there's a horse sequence in this movie, there's a train sequence in the movie, there are crazy fight sequences throughout the movie, all of that comes from his imagination. Like, I don't know how to put those sequences together, in my mind at least. So I think Timur, what he does, is take a 19th century biopic and give it a 21 century visual treatment, which is something pretty new.
Another movie you worked on, Dark Shadows, had its first trailer come out recently. I thought it looked awesome but the reaction tended to be, 'I didn't know this was a comedy.' Is that trailer an accurate depiction of the movie you worked on?
It is. It's a funny movie. But I will say it's also a Gothic, dark movie and there's also a lot of soap opera in it. I mean the movie is a lot of different things, just like the soap opera was a lot of different things. I think that we weren't afraid to let Johnny [Depp] invent this character and be funny. I think if you were just going to do a straight forward, soap opera for two hours, I think people would get bored. I think people want to be entertained. So I think we've found a great way to entertain people but also stay true to some of the origins of the series.
Abraham Lincoln: Vampire Hunter hits theaters June 22. Dark Shadows will be released May 11.