Streaming Bits: Hulu's Player Grows 55%, Cablevision Launches HBO Go, Amazon Signs Discovery Deal, iTunes 1080p Almost As Good As Blu-Ray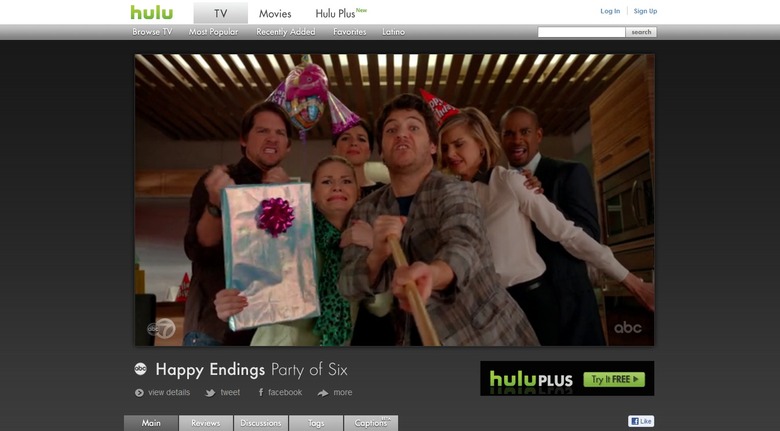 Watching movies on your computer has long been a convenient option that comes at the cost of quality. But as Hulu's video player gets a size upgrade and iTunes launches 1080p videos, digital media is looking better and better. After the jump:
Hulu unveils a shinier, cleaner new UI
Cablevision subscribers can now sign up for HBO Go and Max Go
Discovery Communications brings 3,000 more titles to Amazon
The difference between 1080p and Blu-ray may be smaller than you think
The redesign isn't without its downsides, however. The "Dim the Lights" feature has been cut entirely, and some users have complained about the difficulty of accessing the "pop out" button (you now have to hit the "more" button to find it). Still, as a frequent Hulu user, I'd say this is a win for the site overall. [Venture Beat]
Cablevision has just announced the launch of HBO Go and Max Go, a service that allows HBO and Cinemax subscribers to stream over 1,400 titles from the HBO catalog and 400 from the Cinemax catalog, via computer, iPad, iPhone, or Android smartphone. Though HBO Go and Max Go initially launched two years ago, some Internet providers have been faster to sign up than others. With Cablevision now on board, HBO Go is now available to 98% of HBO subscribers, according to HBO Co-President Eric Kessler.
HBO Go and Max Go are part of the industry-wide push for its "TV Everywhere" initiative, which aims to let customers access their paid cable programming across various devices even when they're away from home. Cablevision customers can now sign up for the service at HBOGo.com and MaxGo.com, or at optimum.net/TVtoGo. Head to Deadline to read the full press release.
Now you actually can live every week like it's Shark Week. Over the next few weeks, Amazon Instant Video will be rolling out almost 3,000 new titles from Discovery Communications, thanks to a new deal between the two companies that Amazon CEO Jeff Bezos calls "the biggest addition yet" to Amazon's catalog. The agreement covers shows from Discovery Channel, TLC, Animal Planet, Investigation Discovery, Science, and the Military Channel, such as Dirty Jobs, Say Yes to the Dress, Cake Boss, Mythbusters, and yes, Shark Week.
Amazon Prime subscribers will be able to stream the videos for free, while non-Prime members can rent or buy the shows on an a la carte basis. The addition of the Discovery catalog pushes the number of Amazon streaming titles up to about 17,000. As recently as December, that figure was at 13,000 — Amazon's offerings are expanding quickly indeed. [TechCrunch]
While Blu-ray unquestionably remains the ideal format for home video, it's not always as convenient as one might hope. On the flip side, while downloading or streaming an iTunes video is about as easy as it gets, the quality often isn't up to par. But as digital media improves, that gap is closing, and with the launch of iTunes' new 1080p videos, it's now narrower than ever.
To find out just how much difference a disc makes, Ars Technica recently decided to do a side-by-side comparison between a Blu-ray of 30 Days of Night and an iTunes 1080p digital copy of the same film. Unsurprisingly, Blu-ray won out in the end — but iTunes turned out to be a closer competitor than you might expect:
I was surprised to see how close the iTunes 1080p download comes to Blu-ray, considering that it's only a fraction of the file size. And let's be honest: there are lots of Blu-ray titles that look much worse than this iTunes download. But despite an impressive effort by Apple, Blu-ray still reigns king when it comes to image quality. And unlike iTunes titles, BRDs can have uncompressed multi-channel audio, multiple audio language options, and special features. Am I being greedy in wanting both good-looking downloads for convenience, as well as buy-once-play-anywhere Blu-ray discs of my all-time favorite movies?
See the difference for yourself below: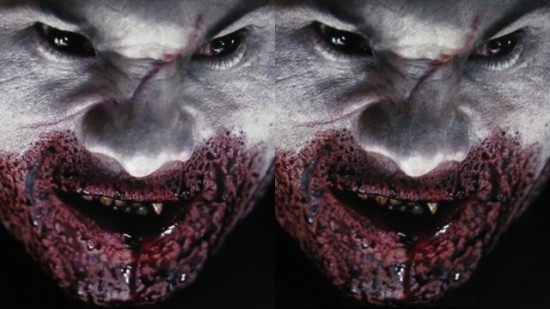 That's iTunes on the left, and Blu-ray on the right.
There's no point in throwing your Blu-rays out the window just yet, especially since Blu-ray still handily beats 1080p video when it comes to audio. But given how difficult it is to really spot the differences between the two images above, I'd think all but the nitpickiest cinephiles would happily turn to iTunes in a pinch. [via Cult of Mac]