Zoe Saldana And Megan Fox To Start In Heist Film 'Swindle'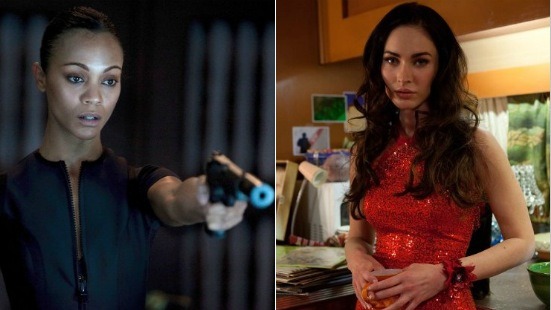 There's not much information on this film save for the following and, really, the next sentence is more than enough. Paramount has just bought a heist script called Swindle, written by Enzo Mileti and Scott Wilson, which will star Megan Fox and Zoe Saldana. The film will be developed and produced by Michael De Luca and as well as the two leads, who helped conceive the project when they decided they wanted to work together. There's more after the jump.
Deadline broke the news of the deal and say that details on the script specifics are being kept under wraps. No word if the actresses play rivals, friends, or how it all fits into a heist script.
According to IMDB, Swindle will be the first screenplay for Mileti, whose worked primarily as an actor in the past but also directed a documentary called Pipe Dreams.
Fox has Friends With Kids currently in theaters and two other films, The Dictator and This is Forty, coming later this year. Saldana has The Words coming out later this year and is currently filming Star Trek 2. She has one film lined up after that, another in the works, and then will likely be shooting Avatar 2 and 3 for a long time, possibly by the end of the year.
With that on the horizon, it'll be interesting to see if De Luca and Paramount fast track Swindle for pre-Avatar 2 or wait until Saldana is done with her second (and third) trip to Pandora. I'm betting on the former and James Cameron's penchant to take his time.
Saldana and Fox on screen together. Are you automatically there? And when do you think this will shoot?