Casting Bits: Vinessa Shaw In 'The Bitter Pill;' Ray Liotta In 'Better Living Through Chemistry;' And Stanley Tucci In 'Your Voice In My Head'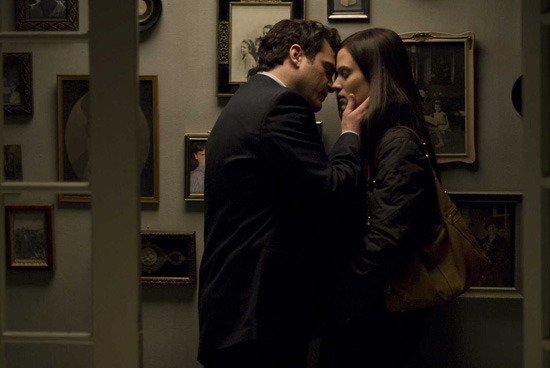 One of the last two films Steven Soderbergh plans to shoot before retiring from directing is The Bitter Pill, a thriller scripted by Scott Z. Burns (The Informant!, Contagion) that follows a troubled and highly medicated woman (Rooney Mara) who is dealing with her anxiety pending the release of her husband (Channing Tatum) from prison.
The promising actress Vinessa Shaw (Two Lovers, pictured above, and 3:10 to Yuma) is now set to play the wife of one of Mara's doctors, who will be portrayed by Jude Law. After The Bitter Pill, Soderbergh will move on to his Liberace biopic for HBO, and then he's done. (So he says.) [Deadline]
After the break, Ray Liotta lives with chemistry and Stanley Tucci joins two Harry Potter veterans.
Ray Liotta is now set to be the rather unlikely husband to Olivia Wilde in Better Living Through Chemistry, which Geoff Moore and David Posamentier wrote and will direct. The cast is solid: Michelle Monaghan, Sam Rockwell and Judi Dench are all in the film that follows "a straight-laced pharmacist's uneventful life that spirals out of control when he begins an affair with a trophy wife." Rockwell plays the pharmacist.
Better Living Through Chemistry shoots in May. [Deadline]
Finally, Stanley Tucci will ditch the outrageous hair and oversize choppers he sports in The Hunger Games to join Emma Watson in Your Voice in My Head, which reunites the Harry Potter actress with her four-time Potter director David Yates.
The film is based on a memoir of the same name by Emma Forrest (who also scripted) and follows a young woman (Watson) whose relationship with a journalist falls apart, leading to a suicide attempt and deep connection with a psychiatrist. Tucci will be her doc. Variety says Warner Bros. sees the film as a potential 2013 Oscar contender, so while the project doesn't yet have a green light, expect that to happen soon.