'John Carter' Fans Demand A Sequel, Launch Facebook Campaign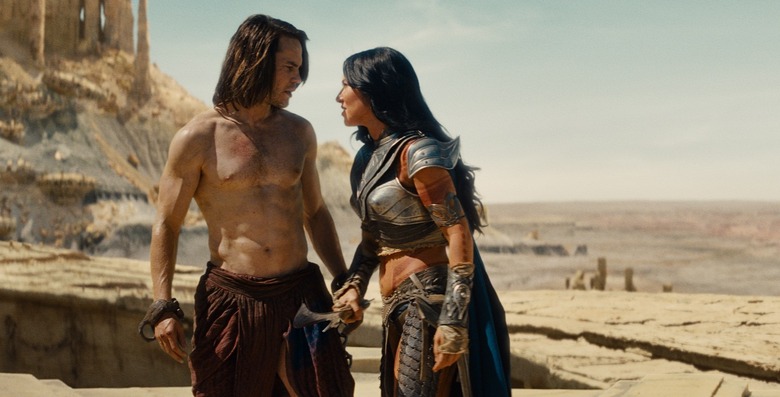 For some onlookers, John Carter's opening weekend box office take of $30 million in the US earmarked the film as a failure. No one can be 100% sure about the movie's financial future until the upcoming second weekend returns but it would take a Moses-size miracle for the $250-$300 million film to become profitable in the United States. (To be fair, its $70 million international opening weekend gross is far more encouraging.)
If you saw the film, however, you might agree that, no matter how you feel about its first two hours, the finish is phenomenal and a great cliffhanger for a possible sequel. It has inspired fans to assemble like the armies of Barsoom to tell Disney that, yes, we want to see more John Carter, even if the numbers aren't too promising. Read more after the jump.
Forbes first reported the existence of this Facebook group, called "Take Me Back To Barsoom, I Want John Carter To Have a Sequel." As of press time, it had just shy of 2,000 members. It encourages fans to take to social media to let Disney know they want the sequel.
We know that John Carter director Andrew Stanton has begun work on the sequel, which would be based on the Edgar Rice Burroughs 1914 book The Gods of Mars, and that all parties involved are interested. But Stanton himself said it would all come down to economics. That alone would get Disney executives on board with the film.
Unfortunately, that doesn't look too likely. The Hollywood Reporter has a very interesting article about how the poor opening of Carter shows a major malfunction with Disney's current regime and makes no mention of the possibility of a sequel. A few months back, a similar report said the film would need to gross $700 million to make that happen. At this point, it'll likely struggle to reach the box office heights of another expensive, but largely disappointing Disney live-action film, Tron: Legacy.
Still, if you're a fan of John Carter and want to see a sequel, it can't hurt to get your voice out there. Any little bit helps.
Finally, here's a new fan trailer for the film just to remind you what all the fuss is about.
Do you think the film will ever happen?